Samsung quarterly profit surges amid smartphone boost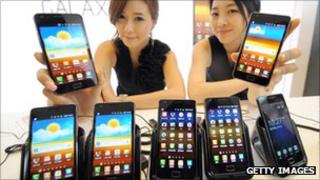 Samsung Electronics has reported a record quarterly profit, boosted by a surge in smartphone sales and improved margins in its TV business.
Operating profit was 6.72tn won ($5.9bn; £3.8bn) in the second quarter, a 79% jump from a year earlier.
Samsung, which makes the Galaxy range of smartphones, overtook Nokia as the world's biggest maker of mobile phones earlier this year.
Analysts said Samsung's earnings were likely to rise further in the future.
"Given the situation that 60% of Samsung's profits come from smartphones and smartphone-related components, the growing profit in handsets sales will make up for the loss in TV or traditional electronic devices," said Kim Young-chan of Shinhan Investment Corp.
"Samsung's earnings will reach the peak in the third quarter."
Further dominance?
While Samsung has been increasing its share of the smartphone market, competitors such as Research in Motion, the maker of Blackberry phones, have not been doing as well.
At the same time, Apple, which is considered to be Samsung's biggest competitor, has yet to announce when it will launch the latest version of its popular iPhone.
Analysts said they expected the model to be launched in the final quarter of this year, which they said could help Samsung's cause.
Song Myung-sub of HI Investment & Securities said that the new iPhone was coming out in October, so it will not have much impact on Samsung sales in the third quarter.
"The expected sales of Galaxy S III this quarter are 6.8 million and for the next quarter we forecast 15 million phones to be sold."
"Just this area would bring 8tn won in sales increase."
According to report by research firm Strategy Analytics, Samsung shipped 93 million mobile phones in the second quarter, accounting for 26% of the global market share.
Key risks
However, the firm also faces some risks, not least from the ongoing legal battles with Apple.
The two firms are fighting cases in multiple countries over claims of patent infringement.
The cases have resulted in some of Samsung's products, such as its Nexus smartphones and the Galaxy tab 10.1 tablet PC, being banned in the US.
However, some cases have also been decided in favour of Samsung. But analysts said that the disputes were still a problem for the company.
"The biggest risk Samsung is facing might be patent issues, as stocks can respond negatively to this uncertainty," said Mr Kim of Shinhan Investment Corp.
At the same time, the electronics maker is also facing slowing demand and falling prices for memory chips.
Samsung, which is the world's biggest memory chip maker, said that sales at the division had fallen by 6% during the quarter.
"Weak memory chip prices remain the biggest concern for Samsung in the third quarter," said Seo Won-Seok of Korea Investment & Securities.