Facebook shares fall as it reports $157m loss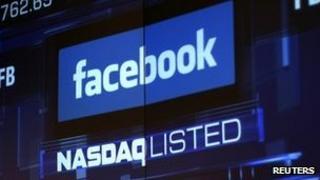 Facebook shares fell 11% in after-hours trade after it reported its first results since its flotation in May.
The results were slightly ahead of analysts' expectations. Second quarter revenues rose 32% to $1.18bn (£751m) and it reported a $157m loss.
But concerns remain Facebook is yet to work out how to make money from people using the site on mobile devices.
The loss was due to having to make payments to early investors, including chief executive Mark Zuckerberg.
"We're disappointed about how the stock is traded but the important thing for us is to stay focused on the fact that we're the same company now as we were before," Facebook's chief financial officer David Ebersman told an analyst call.
Shervin Pishevar, managing director of Menlo Ventures, and a Facebook shareholder, told the BBC that he was not worried about Thursday's share price fall.
"I don't think there's any kind of predictions you can make in the short term. We take a very long term view [and] all of the numbers are incredibly exciting," he said.
Hype
The $157m loss for the three months to the end of June compares with a $240m profit in the same period last year.
Excluding staff share schemes, Facebook would have made a profit of $295m.
Second quarter costs and expenses nearly quadrupled to $1.93bn from the same period last year.
Shares fell 11% in after-hours trade in New York to a record low of $23.94.
Earlier, during the regular trading session, Facebook shares had already dropped 8.5% after disappointing results from Zynga, whose online games account for about 15% of Facebook's revenues.
In May, investors had queued to snap up Facebook shares for $38 each.
Going mobile
The number of monthly active users (MAUs) rose 29% from the same period last year to 955 million, but some analysts question the reliability of this data given the number of fake profiles on the social network.
Mobile daily active users surged 67% year-on-year to 543 million.
But Facebook has yet to resolve how it generates profits as users move from the computer desktop version to accessing the site via mobile phone.
The company is now making less money from each user as it becomes more difficult to generate advertising revenue.
Its operating profit margin fell to 43% in the period compared with 53% a year earlier.
David Phillips, a lecturer at the University of Gloucestershire on communications and social media, questioned how Facebook could make any money from mobile devices.
"I'm not sure it's advertising, I think it may be engagement that's going to generate the revenues for them," he said, citing games such as Farmville. "Engagement on mobile is very, very addictive."
Brian Hamilton, chief executive of the analysis firm Sageworks, said there was also still a worry that Facebook had been over-valued.
"The issue with this company is not to us, revenue growth or even profit growth. Those look pretty good. It's still around valuation," he said.