Tough choices for Mr Osborne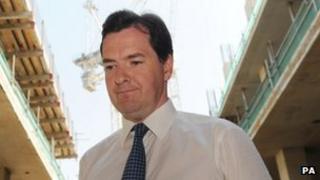 David Cameron today promised business leaders that the government would "continue to take the tough decisions that are necessary" for the world to have confidence in the long-term future of the British economy.
But bad economic news is already forcing tough decisions on his chancellor, which will surely come to a head in the autumn, if growth continues to disappoint.
Remember last November, the OBR's more pessimistic view of the UK's economic future forced George Osborne to revise up his deficit forecasts, and push forward the date when public borrowing would come under control.
He didn't call it Plan B, but he did consciously decide he would make less progress on cutting the deficit this year - rather than bring in extra cuts and tax rises, at a time when the economy was already flat.
As Mr Osborne would point out, the likes of Spain and Italy have not had that luxury. The have had to tighten policy, even as their economies slipped further into the mire.
Now, look ahead to November 2012. The OBR will almost certainly have to revise down its forecast for 0.8% growth this year. The average independent forecast is now that the UK will grow by just 0.1%, and by1.5% in 2013, also lower than the OBR had hoped.
This chart, pulled together by Geoffrey Dicks, shows how far that forecast has fallen since last year.
That bad news will probably push up the borrowing numbers once again, though not necessarily the "structural" measure of borrowing which figures prominently in Mr Osborne's targets . It is early days yet but the current budget deficit for 2012-13 is already running well ahead of last year's and well ahead of the forecast.
Even more importantly for Mr Osborne, that revised economic picture could well raise the question of whether the faster pace of budget cuts he is planning for next year are really such a good idea.
As I discussed last week, the IMF has advised him to postpone next year's somewhat larger dose of austerity if the economy is still looking flat, even at the cost of missing the chancellor's key debt target. The Fund also suggested he could afford to do that, without losing a lot of credibility in the financial markets.
Mr Osborne may not agree. But the mutterings from ratings agencies this week are a reminder that high borrowing and a flat or shrinking economy can put a country's top credit rating at risk - even if the chancellor's deficit-cutting credentials remain impeccable.