BAA loses latest appeal against Stansted sale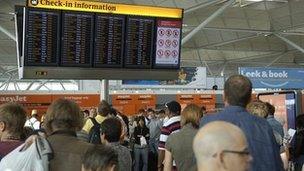 Airport operator BAA has lost its latest appeal against the Competition Commission's ruling that it must sell Stansted Airport.
The hearing, in front of three Court of Appeal judges, is the latest in a long line of challenges to the ruling that was first made in 2009.
In February, BAA lost an appeal at a UK Competition Appeal Tribunal.
The Spanish-owned company has been told told to sell Gatwick, Stansted and either Glasgow or Edinburgh airports.
It has sold Gatwick and recently agreed to sell Edinburgh, but it has continued to fight the Stansted decision.
It is unhappy about having to sell airports in an unfavourable economic climate.
The Competition Commission said it was pleased that its decision had been upheld.
"It remains the right decision in the interests of passengers and airlines and it is surely now time for BAA to accept the verdict and proceed with the sale," said Laura Carstensen, chairman of the commission's BAA Remedies Implementation Group.
Related Internet Links
The BBC is not responsible for the content of external sites.