Liverpool FC signs up Chevrolet as club car sponsor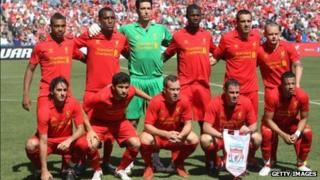 US carmaker Chevrolet has signed a four-year deal with Liverpool to become the football club's car sponsor.
The firm, owned by GM, signed a similar deal with Premier League rivals Manchester United in May.
The LFC partnership runs to the end of the 2015/16 Barclays Premier League and European campaigns.
Ian Ayre, managing director of the Anfield club, said the deal demonstrated "the value of Liverpool's international appeal".
No financial details have been given about the arrangement.
Chevrolet is also an official sponsor for the cub's North American pre-season tour, which has already seen Liverpool play Toronto FC, and will later play AS Roma and Spurs in the US.
GM's UK-based Vauxhall business sponsors the England, Scotland, Wales and Northern Ireland national football teams.
In May, GM said it would drop advertising from next year's broadcast of the National Football League's Super Bowl, and has also pulled out of advertising on Facebook.