Japan posts record half-yearly trade deficit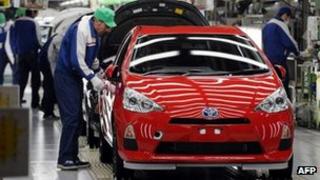 Japan has posted a record trade deficit for the first six months of the year as exports weakened and increased demand for fuel resulted in a jump in imports.
Exports rose just 1.5% during the period, from a year earlier, hurt by slowing global demand and a strong yen.
Meanwhile imports jumped 7.4% amid rising fuel demand, as most of Japan's nuclear reactors remain shut.
That resulted in a trade deficit of 2.9tn yen ($37bn; £24bn) for the period.
"Japan's trade balance continues to show a trend of weak exports and extreme sensitivity to import prices, such as those of crude oil," said Junko Nishioka, chief Japan economist at RBS Securities.
Growth concerns
Japan, the world's third-largest economy, relies heavily on exports for its economic growth and there have been fears that a global slowdown may hurt its economy.
Those fears were fanned further after trade data for the month of June showed that exports to key markets such as Europe and China continue to remain weak.
Shipments to the European Union declined by 21.3% from a year earlier, while those to China were down by 7.3%.
Overall exports dipped 2.3% in June from a year earlier, compared with a 10% jump in the previous month.
Analysts warned that exports may continue to remain weak in the near term.
"Exports remain sluggish and you can't expect much from external demand to drive the Japanese economy in the latter half of this fiscal year," said Yasuo Yamamoto a senior economist with Mizuho Research Institute.
Mr Yamamoto added that if the debt crisis in eurozone worsened and the US and Chinese economies slowed down further, the impact on Japan's exports and economy may be even more pronounced.
"I don't think the Japanese economy is sliding back into recession, but that possibility cannot be totally ruled out."
Double whammy
To make matters more complicated for policymakers, imports also fell in June, indicating that domestic demand in Japan was not increasing enough to offset the decline in exports.
Imports fell by 2.2% during the month, from a year ago, after having jumped more than 9% in May.
While a big role in the decline in imports was played by the fall in oil prices, analysts said that the drop in Japan-bound shipments of other commodities indicated an overall weakness in domestic demand.
Imports of iron and steel products fell 12%, while shipments of non-ferrous metals declined more than 10%.
Analysts said the slowdown in exports, coupled with a weak domestic demand, indicated that Japan's growth may slow down.
"Back in April, the main scenario for Japan was that the economy would recover on domestic reconstruction demand and an expansion of exports. The export part of that scenario is crumbling," said Seji Adachi of Deutsche Securities.
"Japan's economic recovery could have already peaked in the first half of the year."