Apple's reports lower-than-expected rise in Q3 profits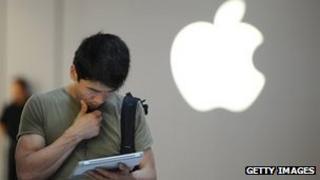 Apple made a net profit of $8.8bn (£5.7bn) in the three months ending in June, up 21% from a year earlier but lower than forecasts.
The consumer gadget and computer maker reported $35bn in sales , up from $28.6bn in 2011.
But sales of its iPod digital music player fell 10% while Mac computer sales flatlined, up just 2%.
It will pay shareholders a rare dividend of $2.65 per share on 16 August.
iPhone vs iPad
Apple - the world's most valuable company - sold 26 million iPhones. That is a rise of 28% but slower growth than many analysts had forecast.
By contrast, sales of Apple's tablet computer, the iPad, rose 84% from the same period last year.
"We're thrilled with record sales of 17 million iPads in the June quarter," said Apple's chief executive Tim Cook.
But David Rolfe of Wedgewood Partners said: "What is key is the mixture between iPhone and iPad, the iPhone has higher margins. iPhone sales were lower than expected - meaningfully lower - and that translates into a big hit on the bottom line."
Analysts had forecast third quarter revenue of $37.2bn, according to a Thomson Reuters poll.
Apple's forecast for sales in the fourth quarter - the three months ending in September - was still lower at $34bn, which disappointed investors.
Apple shares fell nearly 5% in after hours trading.
Challenges ahead
Like many US companies, the strength of the US dollar against the euro and other currencies makes US-made goods more expensive overseas.
Added to that, the faltering economic recovery in the United States combined with recession in major markets such as Europe is also making it more difficult to sell consumer electronics.
Apple also faces stiff competition from Samsung's Galaxy S3 and HTC's One X smartphones.
"European sales dipped by a very surprising 6%... The combination of Samsung's big roll-outs and suddenly weakening European consumer demand in June created some issues," said Tero Kuittinen of Alekstra.
Apple is due to launch the iPhone 5 later this year but the group is under pressure to come up with a whole new generation of products to secure its position in the technology sector.
"We've also just updated the entire MacBook line, will release Mountain Lion [its new operating system, on Wednesday] and will be launching iOS 6 this fall. We are also really looking forward to the amazing new products we've got in the pipeline," said Mr Cook.
Samsung rivalry
Also on Tuesday, Apple told a US court it would seek damages of more than $2.5bn from South Korean rival Samsung.
Apple claims Samsung copied iPhone and iPad designs, infringing Apple patents.
Samsung has denied copying Apple's intellectual property and instead claims that Apple has been using Samsung patented technology for its wireless connections.
Earlier this year, the court instructed the two technology giants to try to settle the matter out of court, but talks broke down after just two days in May.
The court case gets underway in San Jose, California on Monday 30 July.