Insurance costs set to rise, says AA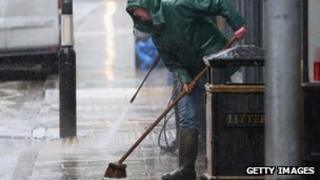 UK consumers are facing rising vehicle and home insurance costs following the recent bad weather, a survey has suggested.
The average cost of car insurance rose in the three months to the end of June, the AA British Insurance Premium Index indicated.
However, some insurers were cutting prices in an attempt to attract custom.
Meanwhile, buildings and contents insurance premiums were set to rise owing to recent flooding, the AA said.
"What marks the latest flooding events is that in many cases, they are happening in places with little or no history of flooding," said Simon Douglas, of AA Insurance.
"They have followed extreme rainfall over a relatively short period, resulting in flash floods from surface water rather than flooded river systems.
"The kind of weather that has been battering Britain recently reflects an increasingly unpredictable pattern that insurers need to take account of when setting their premiums. They need to have adequate reserves in order to meet future claims."
The Association of British Insurers (ABI) has estimated that payouts to customers who suffered flood and storm damage during the wettest June on record in the UK were expected to reach £500m. Insurers helped 68,000 people, the ABI said.
'Competitive pressure'
Home insurance fell slightly in the second quarter of the year, compared with the previous quarter, but was up on the second quarter of 2011.
The survey also said that an average annual comprehensive car insurance policy rose by 4.3% to £1,034 in the three months to the end of June, an annual increase of 8.5%.
The AA figures showed that Wales saw the biggest rise in costs, up 6.3% in the three months to the end of June.
However, there was a fall in the cost of the cheapest five premiums, across the country.
"Competitive pressure is leading some companies to make big premium cuts on price comparison sites so that they can increase their portfolio of customers," Mr Douglas said.
"While this is great news for consumers, they need to make sure they are getting good cover, not just a good price."
The strong pound meant that motorists driving overseas during the summer were likely to see comparatively lower fuel costs than has been the case, according to Post Office Insurance.