Spain's regional governments: How they got into trouble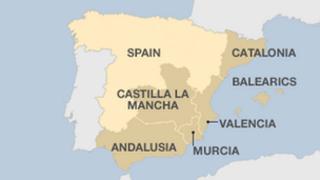 Spain's 17 regional governments are a big part of the country's financial problems.
Like the regional savings banks, they are victims of the country's property boom and bust.
During the boom years, regional government tax revenues were swelled by stamp duties on property sales, and by income taxes paid by immigrants that came to work on the country's construction sites.
The boom was felt most strongly on the Mediterranean coast, where hotels were built for tourists and villas for pensioners and the wealthy.
The regional governments also found themselves spending more - on big infrastructure projects, on education for the immigrants' children, as well as on providing increasingly expensive healthcare, especially for the growing elderly population.
Then the bust came.
Tax revenues - not just stamp duties, but also income taxes and the VAT earned from consumer spending - have collapsed during the recession.
Yet the regional governments' spending commitments - health, education, and half-complete construction projects - have not gone away so suddenly.
Regional governments grumble that many of these commitments are set by law in Madrid.
Catalonia is the most unhappy - its government demands more financial autonomy, while many ordinary Catalans want full independence.
The regional governments' collective budget deficits - how much they have to borrow each year to fund their overspending - was 2.9% of Spanish economic output (GDP) in 2011.
That was about a third of the 8.5% deficit recorded by the Spanish public sector as a whole (national and regional together), and well above the 1.3% target that had been set by Madrid.
This year's target is 1.5% of GDP, but looks just as unlikely to be met.
Meanwhile the regional governments have found it near impossible to borrow - neither from the capital markets, nor from their troubled savings banks.
An 18bn-euro (£14bn) Regional Liquidity Fund set up by Madrid has already been turned to by five regions for bailouts.
Here's a run-down of the main regions to watch:
Valencia
Population: 5.1 million
Deficit: 3.7% of GDP in 2011
Debt: 20.8bn euros in 2011
In July, Valencia became the first region to ask for money from the central government's rescue fund.
One of the most financially troubled regions, Valencia's name has become particularly associated with white elephant construction projects - a problem across the country.
The Castellon airport, opened in March 2011, has yet to receive a single commercial flight.
And critics see the sprawling City of Arts and Sciences - a gleaming complex which was inaugurated in 1998 and added to over 15 years - as a symbol of excess, which they say went three times over budget.
Murcia
Population: 1.5 million
Deficit: 4.3% of GDP
Debt: 2.8bn euros
Despite being one of Spain's smallest regions, news that Murcia would join Valencia in requesting a bailout sent the Spanish government's own borrowing cost on financial markets to a record high in July.
Like the other Mediterranean coastal regions Murcia has been at the sharp end of Spain's construction boom and bust.
Its failure to manage its finances was seen as a worrying portent for its much bigger neighbours.
Catalonia
Population: 7.5 million
Deficit: 3.7% of GDP
Debt: 41.8bn euros
Catalonia has become the most pivotal region in the current crisis.
It has the biggest economy in Spain, but it also has the biggest debts.
Because of their relative wealth, Catalans pay a lot more in taxes to Madrid than they receive via central government spending in return.
In effect, some 10% of Catalonia's GDP each year is used to provide financial support to the rest of Spain.
On top of that burden, the Catalan government has had to borrow heavily to support its own economy, which has been particularly hit hard by the economic downturn.
Catalans consider themselves a separate nation within Spain with their own language, so the government in Barcelona has been reluctant to ask Madrid for a bailout.
In the past two years the government instead turned to the patriotism of its own citizens, selling them bonds to finance its budget shortfall.
However, this summer Catalonia finally had to ask for 5bn euros from Madrid's rescue fund.
The irony that the biggest tax contributor to Madrid's coffers has had to beg for a bailout is a source of great bitterness for Catalans.
It has strengthened demands for greater financial autonomy, similar to what the Basques enjoy, and the Barcelona government has called early elections for November, construing it as a plebiscite on the issue.
But many Catalans want to go the whole hog, with 1.5 million turning out for a rally demanding full independence in September.
The Catalonian president, Artur Mas, has himself called for a referendum, something that would breach Spain's constitution.
However, if Catalonia did go its own way, it would leave an enormous hole in Madrid's finances.
Andalucia
Population: 8.4 million
Deficit: 3.2% of GDP
Debt: 14.3bn euros
The enormous southern region of Andalucia is the most populous in Spain.
It is also one of the poorest - which is ironically something of a blessing in disguise.
It has made Andalucia the biggest recipient of net spending by the central government - something that has helped to prop up the region's economy, and that has ultimately been paid for by the much wealthier citizens of Catalonia and elsewhere in Spain.
It has helped the regional government keep its own spending under control, and Andalucia has relatively little debt given its size.
A lot of central government spending goes on Andalucian unemployment benefits.
The unemployment rate in the region has always been among the highest in Spain - a country which as a whole suffers from chronically high joblessness.
In the current recession, it has risen to 33% as of March 2012. Youth unemployment was 58%.
But Andalucia's dependence on Madrid's largesse also means that it is particularly exposed to spending cuts by the central government.
In late September, the region confirmed that it would become the fourth region to turn to Madrid's bailout fund.
Castile-La Mancha
Population: 2.1 million
Deficit: 7.3% of GDP
Debt: 6.6bn euros
Crisis jargon buster
Use the dropdown for easy-to-understand explanations of key financial terms:
AAA-rating
The best credit rating that can be given to a borrower's debts, indicating that the risk of borrowing defaulting is minuscule.
This central Spanish region, home to Don Quixote and his windmills, has the biggest overspending problem in Spain and a relatively heavy debtload.
It came as no surprise when Castile La Mancha became the fifth region to turn to the bailout fund in September.
However, the scale of region's problems only came to light after its government changed hands last year.
The new centre-right government is pursuing aggressive spending cuts, but has also said it is open to the idea of borrowing from Madrid's rescue fund.
In 2009, La Mancha's savings bank became the first of many regional banks to be rescued by Madrid, after it was sunk by bad loans to property developers.
As with the savings banks, investors are concerned that La Mancha's regional government may simply be the first to come clean about the scale of its problems.
The Balearics
Population: 1.1 million
Deficit: 4.0% of GDP
Debt: 4.4bn euros
One of the most heavily indebted regions, the Balearics has so far rejected any suggestion that it may need a financial rescue.
However, the government for the islands of Majorca, Minorca and Ibiza is struggling to pay its creditors.
For example, pharmacies have complained that the government still owes them 90m euros of back-payments.