Peugeot Citroen's Philippe Varin to help laid-off staff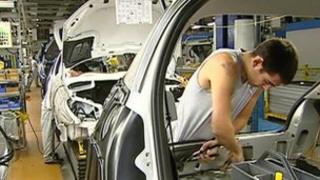 PSA Peugeot Citroen chief executive Philippe Varin has vowed to help laid off workers find new jobs after meeting French PM Jean-Marc Ayrault.
The French government is set to unveil an aid package for the car sector on Wednesday.
The meeting follows a decision by Europe's second-largest carmaker to cut 8,000 jobs and close an assembly plant.
President Hollande's government has criticised the move, sparking a tough response from Peugeot's board.
Mr Varin made no promises to reduce job cuts but said he had "made the commitment that each worker finds a solution to his employment problem".
Also on Monday, Peugeot announced a deal with Toyota under which it will start building commercial vans for the Japanese firm next year at its plant in Sevelnord in northern France.
However, the deal rests on unions at Sevelnord agreeing to changes in working conditions, including a pay freeze and reduced leave, as well as hundreds of possible job cuts.
Without these, the factory is threatened with closure along with the Aulnay plant near Paris, which Peugeot said earlier this month that it intended to shut.
Vulnerable
Industry Minister Arnaud Montebourg, who has already met Mr Varin and trade union representatives, is scheduled to see Peugeot chairman Thierry Peugeot on Thursday.
This follows an interview Mr Peugeot gave to French daily Le Figaro, saying that government criticism of the company has weakened investor confidence and left it vulnerable to hostile takeover bids.
Peugeot's share price has fallen almost 20% since it announced restructuring plans earlier this month.
Government criticism had created a "dangerous" situation, Mr Peugeot said.
Mr Hollande has denounced Peugeot's restructuring as "unacceptable", while Mr Montebourg questioned how the struggling carmaker was still able to pay dividends.
Peugeot family members control Europe's second largest carmaker through a 25.2% stake commanding 37.9% voting rights.
'Painful'
Mr Peugeot had told Le Figaro: "We are ready to accept criticism, but there are limits... The attacks the company is currently facing have an immediate effect on (investor) perception. This is a dangerous situation."
He continued: "We are well aware of the seriousness of the plan to cut 8,000 jobs. These measures are painful. I understand they can cause shock within the company, the government and the whole of the country."
Peugeot's intention to cut jobs and close a factory has caused dismay in Paris because the new socialist government came to power promising to reverse industrial decline.
The job cuts and closure of the Aulnay plant in 2014 is part of an effort to stem operating losses now running at 200m euros ($242m; £156m) at Peugeot's manufacturing division.