Rents rise to near record levels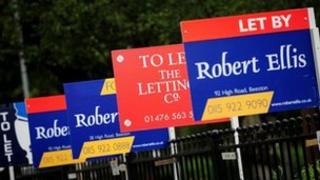 Private rents in England and Wales are rising again, according to the letting agency group LSL Property Services.
Its monthly index shows average rents rose in June for the third month in a row, up by 0.9% to £718.
That means rents are now just short of the record of £720 recorded last autumn.
LSL said rents rose everywhere except the South West of England, and overall the amount being paid by tenants is 2.4% higher than a year ago.
David Newnes of LSL said: "The sheer weight of tenant demand continues to push up rents across the country.
"The rental market tends to see a flurry of activity at this time of year, as tenants look to move before the onset of summer holidays, but this trend has been exacerbated - especially in London - by tenants moving with urgency to secure properties ahead of the disruption of the Olympics."