Spain: Eurozone deal fails to ease concerns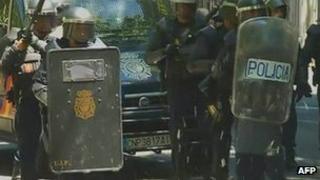 Spain's financial woes have deepened despite eurozone finance ministers approving a deal to lend up to 100bn euros (£78bn) to bolster its banks.
The heavily-indebted Valencia region requested an undisclosed loan from a new rescue fund set up last Friday.
And the yield on Spanish 10-year bonds shot up a quarter percentage point to 7.28%, a rate regarded by analysts as unsustainable in the long run.
Spain's Ibex stock index tumbled almost 6%, its worst fall in two years.
Most bank shares lost about 7%.
The eurozone ministers agreed the loan in return for Spain restructuring and improving the governance and regulation of its banking sector.
But the exact size of the loan will probably only be disclosed in September, when Spain's government gets the results of an audit of its banks.
The International Monetary Fund welcomed the finance ministers' decision to grant financial assistance, saying the measures would help to "significantly strengthen Spain's financial system, an essential step in restoring growth and prosperity in the country".
Formal approval
Eurozone ministers, taking part in a conference call, approved a memorandum of understanding with Spain, which will be signed in the coming days. The aid will be fully disbursed by the end of 2013.
"We have formalised what we discussed in the past two Eurogroup meetings," Luxembourg's Finance Minister Luc Frieden said after the conference call.
"We have formally approved the memorandum that lays out the conditions under which Spain can be lent money for the recapitalisation of its banks.
"The approval of all 17 ministers is there, and that means that the programme can continue. Money will not flow immediately, because work on the analysis of the specific banks is ongoing."
Also on Friday, Spanish Treasury Minister Cristobal Montoro said the country's recession would drag on into 2013, although the economy would not perform as badly this year as previously thought.
The government now expects the economy to contract by 1.5% in 2012 and by 0.5% in 2013. It had previously forecast contraction of 1.7% this year and growth of 0.2% next year.
An audit of Spanish banks by consultancy firms Oliver Wyman and Roland Berger, published last month, showed the banking sector needed up to 62bn euros in aid.
A second audit and new stress tests, to be published in mid-September, will help determine how much money each bank needs.
Worsening position
Spain's three biggest banks, Banco Santander, BBVA and Caixabank, are not thought to need money, but some 10 others may do.
Shares in leading Spanish banks were all down around 7%, although Caixabank fared relatively better, falling by 3.6%, and Bankia did worse, falling more than 10%.
The worsening position of many lenders was underlined this week when Spain's central bank disclosed that they had 155.84bn euros of loans on their books in May that are at risk of not being repaid in full.
The figure is the highest since 1994, and represents about 8.95% of total lending extended by Spanish banks.
Worries about the economy were compounded on Friday when Valencia's vice president, Jose Ciscar, confirmed that the eastern coastal region was asking Madrid for aid.
He and Spanish Treasury Minister Cristobal Montoro refused to call it a bailout, however.
"Just as other regions are, Valencia is suffering from the consequences of liquidity restrictions in the markets as a result of the current economic crisis," Mr Ciscar told reporters.