Plan to boost UK High Streets after Mary Portas report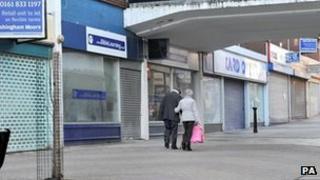 The government has announced plans to try to revitalise the UK's High Streets, after a report by television retail expert Mary Portas.
Ministers are cutting red tape to make it easier for business people to move into empty premises and open so-called pop-up shops.
More than 11% of town centre shops are currently empty across the UK.
Critics say the high level of rents and rates are a more serious hurdle than paperwork for new shopkeepers.
In May, Ms Portas described the country's High Streets as being at crisis point.
The number of shoppers has been falling, while more shops are becoming empty.
Portas' Pilots
In response to her report, the government is making it easier for people to rent empty premises and establish temporary businesses known as pop-ups.
Retailers will now have up to two years to apply for planning permission instead of having to do so immediately.
BBC business reporter Brian Milligan said that should save them money and give more time for their businesses to get established.
Communities Secretary Eric Pickles said: "Leaving empty shops to rot is a wasted economic opportunity that spoils the town centre...
"Reclaiming dreary unused street space can breathe new life into High Streets."
Earlier this year 12 English towns, known as Portas' Pilots, were awarded a share of £1.2m from the government to rejuvenate their shopping areas.
The towns - from Cornwall to Northumberland - will try out ideas proposed by Ms Portas in her High Street review.
Communities minister Grant Shapps said the competition had "captured the imagination of the nation with communities across the country uniting to support their High Streets".