Remploy workers begin 24-hour strike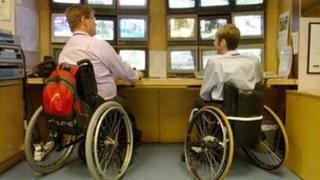 Workers at Remploy's 54 factories have begun the first of two 24-hour strikes in protest at plans to close many of the sites.
Last week, the government confirmed that it would close 27 loss-making factories between August and mid-December, putting 1,421 jobs at risk.
Of these posts, 1,212 positions are held by disabled workers.
The UK government has argued that the £320m budget for disabled employment services could be better spent.
Remploy employs 2,855 disabled staff.
"We are expecting the vast majority of the workforce across the 54 factories to strike," said Sally Kosky, Unite's national officer.
"They are rightly angry that they face a bleak future on the dole, as it is always more difficult for those with disabilities to obtain employment."
The Department for Work and Pensions said: "We're disappointed that the unions are taking strike action which will do nothing to secure the future jobs of Remploy staff.
"The government would encourage the trade unions to fully engage with Remploy during the consultation process to provide the best possible support and success for disabled staff who may leave the company."
The following Remploy sites are set to close: Acton, Ashington, Aberdare, Abertillery, Barking, Birkenhead, Bolton, Operations at Boston Spa, Cleator Moor, Gateshead, Leeds, Leicester, Manchester, Merthyr Tydfill, Motherwell, Newcastle, North London, North Staffs, Oldham, Penzance, Pontefract, Preston, Southampton, Spennymoor, Swansea, Wigan, Worksop and Wrexham.
Remploy says it has received bids for nine other factories at Aberdeen, Barrow, Bridgend, Bristol, Chesterfield, Croespenmaen, Edinburgh, Poole and Springburn.
Its Cook With Care business is also the subject of discussions with potential buyers.
A second 24-hour strike is due to take place next Thursday.