Libor scandal: Central banks to consider reforms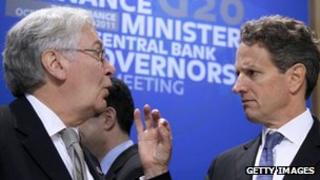 Sir Mervyn King has proposed that central bank governors and regulators should discuss possible reform of Libor at a meeting in September.
The Bank of England governor told fellow central bankers in a letter that it was "very clear that radical reforms of the Libor system are needed".
The move comes after the Barclays Libor inter-bank rate-rigging scandal.
US Treasury Secretary Timothy Geithner said on Wednesday that reforming Libor must be a multi-national effort.
Sir Mervyn has written to the Economic Consultative Committee, which he heads, suggesting that central bankers discuss ideas for reforming Libor in Basel, Switzerland, on 9 September.
The process by which banks set the benchmark rate at which they lend to each other has been discredited following Barclays' £290m fine and widespread belief that other banks were also involved in manipulating Libor.
Concerns about inter-bank lending rates are now spreading to other jurisdictions.
The Financial Times reported on Thursday that four major European banks are being investigated for attempting to manipulate Euribor, the eurozone equivalent of Libor
Singapore and Hong Kong both announced reviews of the way inter-bank benchmark rates were set in the Asian financial centres
A financial regulator in South Korea has launched an investigation into at least four banks over possible rate-fixing.
'Structurally flawed'
Investigators suspect that banks manipulated inter-bank lending rates to profit on trading activity or to flatter their borrowing costs during the global financial crisis.
Libor is calculated daily in London for the US dollar and other currencies when banks post estimates of how much it costs them to borrow from each other.
Critics argue that Libor is essentially based on a subjective assessment, and want a system calculated on actual transactions in the market.
Mark Carney, Governor of the Bank of Canada, said: "There are different alternatives if Libor cannot be fixed. If it's structurally flawed and can't be fixed, which is a possibility, there may need to be different types of approaches, and we need to think that through."