Lawyers predict Libor losers will sue for compensation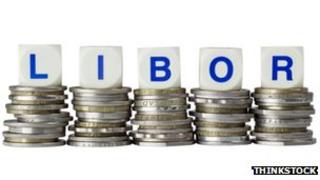 As analysts predict Libor manipulation could cost banks tens of billions of pounds in fines, the biggest threat to their balance sheets could be from those seeking compensation.
Lawyer William Butterfield has just spent two hours on the phone to his office in London, discussing potential legal action over Libor manipulation in the UK.
"They've been investigating this for some time," he says from his office in downtown Washington DC.
His firm, Hausfeld, is talking to governments, pensions funds and big corporations.
Many have been sold Libor-linked financial products known as fixed interest rate swaps. These are a kind of insurance policy taken out to protect against hikes in interest rates. If the Libor rate falls the bank can end up making more money, while the firms taking out the swaps lose out.
But as the calls from new clients continue to come in, Hausfeld is already leading a class action in the US against 16 banks.
The action is on behalf of clients including the City of Baltimore which took out interest rate swaps on hundreds of millions of pounds worth of loans 10 years ago.
"The victims are the city's citizens," says Mr Butterfield.
This week Morgan Stanley estimated 11 of the banks which set the Libor rate could incur losses of £14bn. Nomura Equity research went even higher. They think if litigation is successful low level losses could be over £4bn per bank.
Gary Hartland isn't looking for this much. He is hoping to claim back £36m from Barclays bank over alleged Libor manipulation.
In 2007 his Guardian Care Home Group took out a £70m pound loan with Barclays.
It came with a catch. Mr Hartland had to take out an interest rate swap.
"Barclays came to us and said, 'look it's a condition of [the] loan'.
"They said to us: 'I wouldn't worry about it Gary because although they are fairly complicated products they'll save you money, £2.5m.'"
'Hand to mouth'
Under the swaps deal the exit costs of breaking the loan increased as Libor rates fell and were added to the company's total borrowing. This lead them to breach their loan covenant which further increased their interest rate.
Mr Hartland says this has cost his business an extra £12.5m in interest. But when the news broke about Barclays trying to manipulate Libor, Mr Hartland says it was a game changer.
"If we could prove Libor had been fixed the game was over. They were loading the dice. They were offering you a bet and at the same time fixing the bet."
So far his legal action has cost almost £500,000 and it will need a further £1m to bring the case to court.
"We have been working hand to mouth, we've had pressure from all sides," he says. But he is determined to press on.
"Barclays were saying to us, 'you need this swap because all our illustrations show that interest rates are going up'.
"But at the same time behind the scenes they were rigging Libor and keeping it down."
Barclays declined to comment because of ongoing litigation.
Lawyers here and in the US will have a battle to quantify the loss from Libor manipulation.
Pension losses?
One of the obvious losers could be pension funds as returns may have been lower because of artificially-lowered rates.
Fraser Smart, an actuary and European managing director at Bucks Consulting worked out the sums for us.
He looked at the £1tn in British company pension funds and how they could have been affected by Libor being suppressed by one basis point (0.01%) for a year.
On the white board in his office in Central London he explains his calculations.
"The impact of this one basis point change would be about £2bn on the liabilities."
In order to make up this shortfall he estimates companies would have had to put an extra £50m into their pension pots.
"The impact on an individual level is relatively small, but on an overall aggregate the numbers are very significant," he said.
The Treasury minister, Mark Hoban says it is hard to work out exactly who has lost out and by how much, but is clear about the consequences.
"It has called into question the integrity of London as a global financial centre."
The UK employs 2 million people in banking and financial services.
"Many of those jobs depend on the reputation of the City, if the City loses that reputation, people lose their jobs," he said.
Listen to The Report on BBC Radio 4 via the Radio 4 website or download podcast.