Bank of America swings back to profit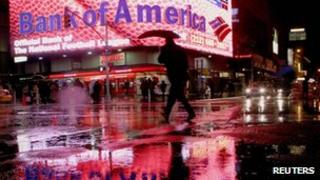 Bank of America has reported a second quarter profit after it cut costs and reduced the reserves set aside to absorb losses on bad debt.
Net profit was $2.5bn (£1.6bn), the bank said. A year earlier, it had reported a net loss of $8.8bn, mainly because of a mortgage settlement.
Total revenue fell to $21.97bn, up from $13.24bn a year earlier, but down from $22.28bn in the first quarter.
However, the bank said it had succeeded in making big cost cuts.
Bank of America began a cost-cutting programme last year, and says it expects to make a total of $8bn in annualised savings by mid-2015.
'Opportunities'
The bank was badly hit during the financial crisis and has struggled with losses related to its 2008 purchase of subprime lender Countrywide Financial.
In the second quarter, revenues at Bank of America's consumer and business banking units fell to $7.3bn from $8.7bn a year ago, and there was also a fall in revenue at its global banking, global markets and global wealth and investment divisions.
The bank's chief executive, Brian Moynihan, said: "In a challenging global economy, we still see opportunities to do more with our customers and clients.
"Lending to commercial businesses increased for the sixth straight quarter - with small business lending and commitments up 23% in a year - and consumer credit is in the best shape in years."