Profile: Marissa Mayer to inject pizzazz into Yahoo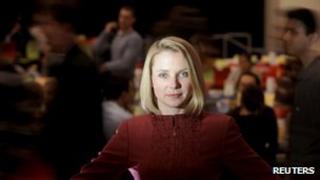 New Yahoo boss Marissa Mayer faces the challenge of reviving a one-time pioneer of the internet that in recent years has found itself struggling against rivals such as Google and Facebook.
If she succeeds, it will be one of the most high-profile turnarounds in corporate America, not least because she has jumped ship from Google, where she has been involved since its early days.
The 37-year-old has pledged to "inject some innovation" into Yahoo.
Ms Mayer, who was Google's first female engineer after joining the company in 1999, spearheaded many of its products, including the look of the search engine.
Most recently, she led the product management and engineering efforts for Google Maps, Local Search, Google Earth and Street View. She also led Google's acquisition of the hugely popular Zagat restaurant guide.
Yahoo chairman Fred Amoroso cited Ms Mayer's "unparalleled track record in technology, design, and product execution" and said those made her "the right leader for Yahoo".
Morale boost
But the Stanford University graduate, who has a background in computer science, will be facing the same challenges that forced out six chief executives in five years.
She is "very well regarded" in Silicon Valley and knows how to build a product, says Larry Magid of technology review site Cnet.
"The only thing that's a big 'if' is that she's never run a big company before.
"The first thing she's going to do automatically is improve morale, especially among the engineers. I think it's going to be a lot easier to attract and retain good engineers now that they have an engineer in charge."
In May, chief executive Scott Thompson stepped down after accusations that he put a fake computer degree on his CV.
In September 2011, chief executive Carol Bartz was fired after two-and-a-half years in the post. Including Ms Mayer, nine of the company's 12 board of directors have joined this year.
Yahoo has struggled in the face of increased competition from search rivals including Google and the emergence of social giants such as Facebook.
Although it remains the largest web portal in the US, Yahoo's failure to take advantage of the social media revolution has hurt the firm.
'Injecting innovation'
Ms Mayer has said that she will "inject some innovation and some new ways of advertising" into Yahoo's business model.
She described Yahoo's position in online display and search advertising as "strong", and added that advertising would continue to be the main source of revenue.
"Yahoo is a company with an amazing following, terrific brand and huge amount of potential," she said.
Ms Mayer, who is expecting her first child in October, is known to be a talented manager with an occasionally brusque style that can make her difficult to work for, said the Wall Street Journal, citing those who have worked under her.
She has an obsessive attention to detail, often micro-managing details down to the shade of colours in new product designs, they said.
As vice president of Google's search products and user experience, she has said constant innovation was better than the search for "instant perfection."
In her '9 Principles of Innovation' , she said she preferred "something working at the end of the day, something to refine and improve the next day", rather than "castle-building" for months.
"That's what we do: our 'launch early and often' strategy," she said.
"Learning what the market wants - and making it great. The beauty of experimenting in this way is that you never get too far from what the market wants. The market pulls you back."
While she is less known among investors than in the tech community, her attitude towards reinvention has helped revive hopes about the company's future.
"You've got a company with declining revenue, and it is fighting the impact of a technology she helped bring to the forefront," says Colin Gillis, managing director of equity research at Brigantine Advisors.
"Will she be able to pull it off? Absolutely."