GlaxoSmithKline to buy Human Genome for $3bn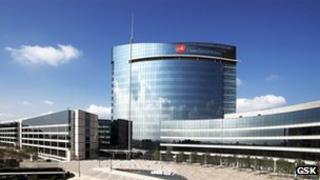 Drug company GlaxoSmithKline is to buy Human Genome Sciences for about $3bn (£1.9bn), ending a three-month pursuit of the US biotechnology firm.
The deal follows weekend talks in which the UK's largest pharmaceutical company agreed to raise its cash bid to $14.25 a share from $13.
The purchase gives GSK rights to several recently-launched medicines.
Major drugs companies are scouring the market for acquisitions as a wave of patents are about to expire.
GSK will gain control of Benlysta, which treats the immune system disorder lupus, as well as experimental medicines for diabetes and heart disease.
"Benlysta is actually going to be a good drug. Glaxo wanted to get this on the cheap and they were able to do it in the absence of other bidders," said analyst Carol Werter, from Summer Street Research.
Biotech companies are looking to acquire a new pipeline of drugs to replace older medicines that analysts say are expiring in record numbers.
Bristol-Myers Squibb recently bought diabetes specialist Amylin Pharmaceuticals by sharing the $7bn cost of the deal with AstraZeneca.