Barclays: 'Other banks to face Libor revelations'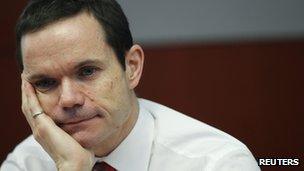 Senior managers at Barclays have warned staff in an internal memo that the Libor scandal will envelop other banks.
The memo circulated on Friday said that revelations about its rivals would "put in perspective" Barclays' culpability.
Meanwhile Barclays' former chief operating officer Jerry del Missier will answer MPs' questions on Monday.
Mr del Missier stands accused of having mistakenly believed Barclays was told by the Bank of England in 2008 to under-report its borrowing cost.
Libor - the London Interbank Offered Rate - is a benchmark interest rate set each day by the British Bankers' Association based on the interest rate that 16 major international banks based in London tell it that they must pay in order to borrow cash from other banks.
It is used as a benchmark rate for trillions of pounds worth of financial contracts, including some mortgages.
According to Barclays' own explanation of events in October 2008, the height of the crisis, the banks then-head of investment banking, Bob Diamond, discussed Barclays' persistently high Libor submissions with the Bank of England deputy governor Paul Tucker.
There were fears that Barclays' apparent high cost of borrowing compared with other banks could be interpreted by the financial markets as a sign that the bank was in trouble.
According to Barclays, Mr del Missier then misinterpreted Mr Diamond's summary of the call to mean that the Bank had given Barclays permission to under-report its own borrowing costs in order to appear to be in line with other banks.
On Monday, Mr del Missier will follow Mr Tucker, Mr Diamond - who recently resigned as chief executive - and Barclays chairman Marcus Agius, who all appeared before the Commons Treasury Committee earlier this month.
Meanwhile, it appears that Barclays believes other banks will soon turn out to be more culpable in the scandal than themselves.
According to the Barclays' memo to staff: "As other banks settle with authorities, and their details become public, and various governments' inquiries shed more light, our situation will eventually be put in perspective."
The memo, from Mr Agius and other senior executives, admitted that customers, shareholders and regulators "all have a right to feel let down" by the bank after it admitted to manipulating Libor, and incurred a £290m ($450m) fine from UK and US regulators.
Several banks are currently being investigated, both in the UK and the US, for allegedly manipulating Libor.
On Friday it emerged that the Federal Reserve Bank of New York - which is responsible for overseeing banks in the US city - discussed concerns about the way Libor was being set as early as May 2008.
However, the email does not specify evidence given by the Barclays employee and it is unknown to what extent the Bank of England governor was aware of the wrongdoing.
But separate documents released by the New York Fed indicate that the Americans did have some evidence.
In one transcript of a telephone call from 11 April 2008 released by the New York Fed on Friday, a Barclays employee told the New York Fed that Barclays was underreporting its rate to avoid the stigma associated with being an outlier with respect to its Libor submissions, relative to other participating banks.
There was a great deal of concern, both within Barclays and the government, as to why Barclays' Libor submissions were higher than other banks at the height of the financial crisis at the end of 2008.
A higher submission rate might be interpreted by the market as a sign that Barclays was in particular trouble compared with other banks, and this created an incentive for Barclays to under-report its true cost of borrowing to the Libor committee.
Barclays' high Libor submissions had led some to suspect that - after the part-nationalisations of RBS, Lloyds and HBOS - Barclays would be next, deputy Bank of England governor Paul Tucker told MPs on the Treasury Committee earlier this month.
It is yet unknown whether the BBA had notified the Bank of England, and if not, why.
Related Internet Links
The BBC is not responsible for the content of external sites.