Bill Clinton: Voters 'don't know' about resource scarcity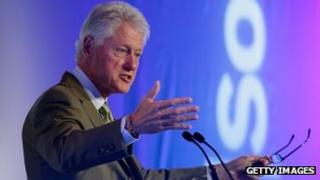 Former US President Bill Clinton has called for more to be done to persuade voters to support schemes that tackle global warming and resource scarcity.
Speaking in Oxford at the Resource 2012 forum, he said "the whole consciousness of a significant number of voters" had to be altered.
"People are not stupid... they may not know, but they are not dumb."
It would enable governments to make the required long-term decisions that may be difficult in the short-term.
"You have to be prepared to pay the price of time if you want to change the ark of history," said the former president.
"What we do not know is whether we can move quickly enough to avoid calamitous climate change and resource depletion. I for one am glad we don't know.
"If we knew for sure we could, we'd get lazy and push it back to the last minute. If we knew we couldn't, we'd do the immoral thing and stop trying."
'Action model'
Turning his attention to the most affordable ways to tackle global warming, Mr Clinton highlighted the need to make existing buildings more energy-efficient, investing more in solar energy, cleaning up landfill sites, and introducing cleaner cooking fuels in India and other countries in the developing world.
He said this and all other efforts required governments, businesses and non-government organisations all working together.
"My view on this is that the best models of action have all three groups doing what they should do," said the former president.
Regarding the situation in the US, he said opinion had "come a long way" since 1997, when the US Senate rejected the Kyoto Agreement on climate change by a unanimous vote of 95-0.
President Clinton said: "At that moment the prevailing opinion in America was that no country could stay rich or get wealthy if they did not put more greenhouse gases into the air... There are still some people in America who believe that, but most don't."