Aegis sold to Dentsu to create global digital media giant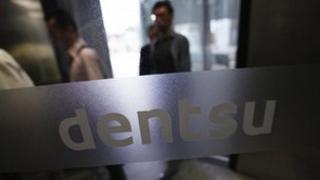 London-based marketing agency Aegis has been sold to Japanese advertising giant Dentsu, creating Asia's largest media group.
Dentsu will pay £3.16bn ($5bn) for the business, whose clients include Kellogg, Disney and HSBC.
Dentsu paid 240 pence per share, a 48% premium on the value of Aegis shares the day before the deal was confirmed.
The deal enables Dentsu to expand beyond its home market in Japan, where ad revenue is declining.
"Dentsu and Aegis will be the market leader in the Asia-Pacific region, enjoying a strong presence across Europe and the fastest growing agency network in the US," said president and chief executive of Dentsu, Tadashi Ishii.
French billionaire Vincent Bollore, Aegis' largest shareholder with control of almost 30% of publicly-quoted stock, has agreed to sell his stake to Dentsu.
The other Aegis directors have sold their stakes in the business to Dentsu, representing 4.1% of the quoted business.
Dentsu is Japan's top full-service media agency with 24.2% of the market. It employs over 21,000 staff across 29 countries.
Media planning and communications firm Aegis, which employs 12,000 people, said earlier this year that it had taken on a record number of new clients US, China and Brazil.
Jerry Buhlmann, chief executive of Aegis, said: "This is a compelling combination of two great businesses that will create one of the world's most dynamic marketing services groups.
"By forming the first communications group with true global reach, the growth strategies of both businesses will be enhanced as we provide more scale, geography, capability and investment to support clients," he said.