Viewpoints: Is China's economy heading for a crash?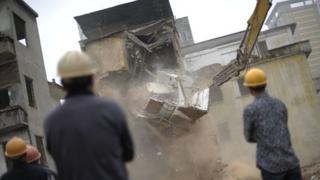 China's heady days of rapid economic growth may be over.
For decades, the so-called Dragon Economy achieved growth rates that helped lift its millions out of the fields and into its mega-cities.
But amidst a growing debt crisis in Europe and a still-fragile recovery in the United States, China's export model may no longer be working as well.
The Chinese government and many economists are now expecting growth to slip below 8% this year, with some even predicting doomsday scenarios of a crash.
So what are the prospects for China's economy? Here, two analysts give their views.
Ghost Cities and Bridges to Nowhere
China is not only the world's second-largest economy and leading exporter, it is also the world's largest construction site.
Over the past decade, China is said to have built the equivalent of Rome every two months.
As a result, ghost cities, as they are known, have sprung up across the country.
No one knows exactly how much over-building has taken place. But Beijing alone is said to have nearly four million apartments standing empty.
Construction has come to dominate China's economy, accounting for roughly 25% of all activity and about 15% of all jobs.
It should therefore come as no surprise that as China's property market has slowed over the last year and land sales have collapsed, the engine of China's economic growth has also sputtered.
The People's Republic has also accumulated a mountain of doubtful debts in recent years.
Most analysts take comfort from the fact that there are no sub-prime mortgages or complex financial derivatives in China.
Yet it is a mistake to ignore the implications of the rapid credit expansion on the mainland following the 2008 global financial crisis.
Due to its stimulus spending, China's total outstanding debt has increased by around 50 percentage points of gross domestic product over the past few years.
And as credit growth has weakened over the past couple of years, the fragility of China's economy has become apparent.
That's because credit works on an economy like steroids on the body of an athlete: you need ever larger injections to maintain the effect.
Since 2009, trillions of Chinese renminbi have been lent by state-controlled banks to local government-sponsored infrastructure companies to fund questionable projects. Most of these loans will probably turn bad.
More worrying still has been the rapid expansion of China's shadow banking system.
Much of this unorthodox lending, which often come in the form of trust loans and so-called wealth management products, has gone to fund real estate development. Such loans generally have to have short maturities and are difficult to roll over during times of stress.
In the words of Premier Wen Jiabao, China's economic development is "imbalanced, uncoordinated, and unsustainable".
The trouble is that Premier Wen has made the same observation for years, and yet China's economy has become even more imbalanced over time.
Now that China's growth is slowing, there are calls for yet another stimulus.
If these calls were heeded that would mean China would end up with more industrial overcapacity, more bridges to nowhere, more empty airports and hundreds more miles of ludicrously uneconomic high-speed rail.
There are hopes that Chinese consumers will pick up the baton.
Since the turn of the century, exports and fixed asset investment have grown faster than consumption. If China's economy is to rebalance, then consumption must rise from its current level of little more than one-third of GDP.
The trouble is that Beijing's system of economic management depends on repressing consumers.
The state-controlled banks earn fat profits while savers suffer deposit rates below the level of inflation. State-owned monopolies charge excessive prices to captive customers. Furthermore, it's difficult to see Chinese consumption soaring at a time when the property bubble is deflating and construction jobs are being lost.
The darkest cloud hanging over China, however, remains public corruption.
Members of the governing Communist Party have used the recent era of rapid growth to amass what can only be described as dynastic fortunes.
The imbalances of China's economy are not accidental but the result of this corrupt polity. Infrastructure is ripe for plundering by corrupt officials.
A series of scandals have drawn welcome attention to this endemic problem which poses the greatest threat to China's long-term economic prospects.
China's 'Masked Strengths'
Electric power generation figures are viewed by many analysts as a more reliable proxy for China's economic activity than official growth numbers.
Recent figures have been weak.
Electricity use grew by a paltry 5.2% in May according to the National Energy Administration, leading many to conclude that China is going to have a hard landing.
But the situation is nowhere near as gloomy as some are making it out to be.
The power generation figure is somewhat misleading since it disproportionately reflects the heavy manufacturing sector.
Energy-intensive, high-polluting industries like steel construction have been hit hard by collapsing demand from Europe, creating a significant impact on power consumption. Manufacturing hubs like Guangdong have suffered, but other provinces that are less reliant on manufacturing are continuing to see strong growth.
Not only that, the government is continuing to limit power-intensive industries to encourage growth in more energy-efficient areas, such as higher-end manufacturing.
There will naturally be some friction in the economy during a shift and that is to be expected, not feared.
To be sure, a slowdown is taking place.
However, the economy will grow faster starting at the end of the third quarter as increased liquidity makes its way into through the financial system.
Furthermore, Chinese consumer optimism and purchasing power are still strong. According to my firm's research, locals are still upbeat and willing to spend, with many choosing to spend their money outside of the country because the strong value of the Chinese renminbi allows their money to go farther abroad.
There is also considerable pent-up demand both for autos and for real estate.
But the Chinese government, wary of the overheating risks, have imposed restrictions that have caused consumers to pull back on spending and shift into a wait-and-see mode.
Looking forward, there are some hopeful signs.
For one, it is becoming easier for Chinese businesses and individuals to borrow. Better rates to depositors will encourage consumers to feel that they can save less and spend more.
The labour market also remains tight. Starting salaries for recent graduates are expected to rise 13% in 2012 over last year. Compare that to 2008, when 20 million factory workers lost their jobs.
The next three to six months might be rocky, but many of the most worrying indicators are due to external factors, and the Chinese economy's underlying strengths are being masked as a result.
At the end of the day, I remain optimistic about China's growth prospects in the long-term. But if the eurozone collapses then all bets are off.
The opinions expressed are those of the authors and are not held by the BBC unless specifically stated. The material is for general information only and does not constitute investment, tax, legal or other form of advice.