Remploy to close 27 factories, government confirms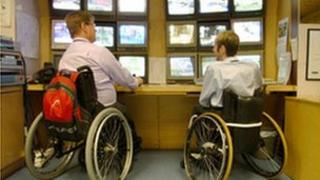 Remploy, which provides employment opportunities for disabled people, is to close half its 54 factories, the government confirmed on Tuesday.
Maria Miller, minister for disabled people, told MPs that the £320m budget for disabled employment services could be spent more effectively.
The 27 loss-making factories are to close between August and mid-December, putting 1,421 jobs at risk.
Remploy said nine other factories had received bids from potential buyers.
Workers at Remploy's 54 factories voted in May to go on strike in protest at the planned closures.
Phil Davies, national officer of the GMB union, said: "To close these factories that employ disabled people in the present economic climate is a sentence to a life of unemployment and poverty.
"The strikes will go ahead on July 19 and 26 as planned and should be a rallying point, giving for each local community the opportunity to stand behind these disabled workers who will be facing the scrapheap."
The government has set aside £8m to support workers who are made redundant.
Employment opportunties
According to the Department for Work and Pensions, the factories lost £68.3m last year.
Remploy factories were established in 1945 to give employment opportunities to disabled people.
Enterprises range from furniture and packaging manufacturing to recycling electrical appliances.
The closures follow recommendations by an independent review into the way the government spends its disability employment budget.
It recommended that the government should divert funding to support individuals, rather than subsidising factory businesses.
The 27 Remploy factories to close are: Acton, Ashington, Barking, Birkenhead, Bolton, Cleator Moor, Gateshead, Leeds, Leicester, Manchester, Newcastle, North London, North Staffordshire, Oldham, Penzance, Pontefract, Preston, Southampton, Spennymoor, Wigan, Worksop, Aberdare, Abertillery, Merthyr Tydfil, Swansea, Wrexham and Wishaw, plus operations at Boston Spa.
The factories attracting bids are: Aberdeen, Barrow, Bridgend, Bristol, Chesterfield, Croespenmaen, Edinburgh, Poole and Springburn, plus the Cook with Care business.