Russia's WTO entry ratified by parliament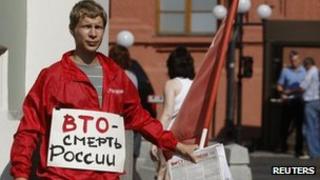 Russia's entry into the World Trade Organization (WTO) has been ratified by the country's lower house of parliament, the State Duma.
Russia has been negotiating its entry for the last 18 years.
The bill now needs to be signed by President Vladimir Putin and will pass into law 30 days after that.
The Duma voted 238 to 208 to pass the bill, with one abstention. Critics said WTO membership would destroy Russian industry and lead to unemployment.
However, Economic Development Minister Andrei Belousov countered: "There will not be any negative social consequences.
"Until we take on responsibilities (of the WTO), we are not understandable to our trade partners. They don't know if we are planning to play cards or football," he said.
Russia was the largest economy outside the WTO.