Farepak customers to receive half of money owed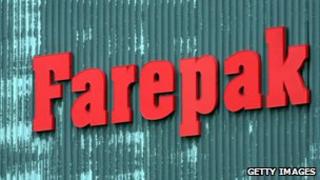 Customers and agents of Farepak, the Christmas savings firm, will ultimately receive half of the money they lost when the company collapsed.
Swindon-based Farepak collapsed in 2006, leaving 114,000 people with total losses of £37m.
Now liquidators BDO have confirmed that final payments will be made to those who lost out at the end of August.
Customers have waited for the end of court cases to see a final settlement reached.
'Hardball' attitude
The government's Insolvency Service had argued that the high-profile collapse of Farepak had been the fault of nine former directors of the company.
At a recent High Court hearing, the service had to admit that its case did not stand up, and the action was dropped.
However, the judge argued that HBOS bank had taken a "hardball" attitude in dealing with the company and was partially to blame for the collapse.
This led to Lloyds Banking Group, which now owns HBOS, to make an £8m payment to the Farepak compensation fund.
Total payment
This has allowed the joint liquidators to bring their investigations to an end, and finalise payment levels.
Farepak collapsed leaving no money available to creditors. However, BDO has confirmed that a payment of about 32p in the pound will be made, which includes a share of the £8m from Lloyds Banking Group.
When added to the 17.5p in the pound given by the Farepak Response Fund charity, set up by the government in 2006, customers will have received a total of approximately 50p in the pound, BDO said.
Former customers and agents who have changed their address since they made their original claim should inform the Farepak claims management team of the alteration.
Suzy Hall, who co-ordinated the Unfairpak campaign, a group set up to support victims in the wake of the crisis, said she was delighted with the final figure, describing it as a "fantastic result".
"Never in my wildest imagination did I think we would get back 50p in the pound. Unfairpak believe we have won."
She also praised the liquidators, who have waived some of their fees and been "very mindful" of costs.
"The demographic of Farepak savers is low-income women so this is absolutely wonderful," she said.