Barclays hit by website problems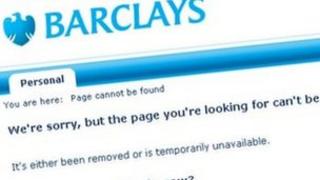 A power failure has led to a fault on the Barclays website, on a day when the bank's executive chairman is being questioned by MPs.
Customers found that the some of the website was not operating properly, although customers could still access their accounts.
The bank said the issue was now fixed.
The fault came as the bank's executive chairman, Marcus Agius, prepared to appear before the Treasury Committee to be quizzed about the Libor scandal.
Banks have been hit by high-profile IT issues recently. Ulster Bank - part of the RBS group - is still attempting to clear a backlog of transactions following a computer failure.
That unprecedented problem caused difficulties for customers of RBS, NatWest, RBS International, and Ulster Bank.
The Barclays problem, which affected the UK website, came after a power failure at a Barclays location in the early hours of Tuesday. The power was then routed through a different location to ensure the website could work.