Employment outlook 'bleak', REC survey suggests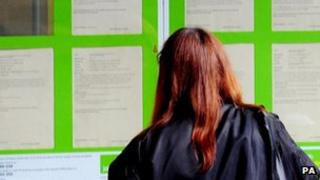 The outlook for the UK jobs market is "bleak" after the number of both permanent and temporary placements fell in recent weeks, according to a survey.
The number of permanent jobs filled in June fell for the first time in six months, KPMG and the Recruitment and Employment Confederation (REC) said.
This could lead to a period of rising unemployment, REC said.
The unemployment rate in the UK currently stands at 8.2%, with 2.61 million people of out work.
"The sharp drop in the number of people placed into work last month is really disappointing," REC chief executive Kevin Green said.
"A decrease in hiring activity means we could see a period of increased unemployment."
A number of analysts have forecast a rise in unemployment in the coming months, in part due to the continuing impact of the eurozone debt crisis on UK businesses.
Employment Minister Chris Grayling said: "Although we've recently seen a rise in employment, [this report] shows the continuing economic challenges we face."
"That's why we are doing everything we can to promote investment and new jobs in the private sector and support people to take up these jobs."