North Korean economy grows 0.8% in 2011, report says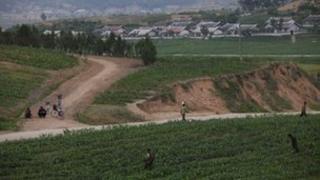 North Korea's economy expanded last year due to increased construction and a recovery in agriculture, an official report from South Korea suggests.
The Bank of Korea estimates the North's economy grew by 0.8% in 2011 after contracting 0.5% in 2010.
This is the second time in the past six years North Korea's economy has grown.
However, the secretive state remains one of the world's poorest countries, with chronic food shortages affecting up to two-thirds of the population.
The report by South Korea's central bank shows forestry industries grew by 5.3% because of good weather conditions and increased fertiliser use, while construction jumped by nearly 4% last year after the North built 100,000 new houses in the capital to mark the 100th anniversary of the birth of founder Kim Il Sung.
North Korea is a closed economy and does not release any official data. The South makes annual estimates based on data collected from private institutions and experts.