Greek PM promises focus on growth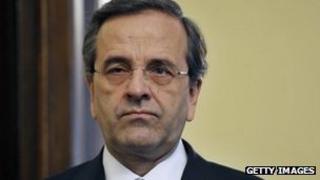 Prime Minister Antonis Samaras has promised to focus on reforms and measures to restore economic growth in Greece in his first major speech.
His coalition government faces a vote of confidence in parliament on Sunday.
Mr Samaras vowed to fast-track the sale of state assets such as the railways in order to raise much-needed money.
He acknowledged that Greece had missed its targets to reduce debt but said he would work to ensure that the country remained in the euro.
Bailout renegotiation
In February, European Union and international lenders had imposed strict targets on spending and economic reforms on Greece in return for a 130bn euro ($171bn) rescue package - the country's second such bailout.
But Greece's national wealth has shrunk for five years in a row and unemployment remains high, which adds to the country's benefit costs while reducing government income in terms of tax receipts.
Measures intended to reduce government debt, such as selling off state-run companies and reducing the minimum wage, risk raising the number of jobless and lowering household incomes, further damaging Greek economic growth .
The government fears that the country is increasingly trapped in a vicious cycle of internationally enforced austerity followed by shrinking wealth or recession.
"With this uncontrolled recession, the programme's funding needs are rising. We want this to stop and to start getting out of this dead end," Mr Samaras said.
"This is the subject of our 'renegotiation'."