Deripaska in High Court battle over Rusal stake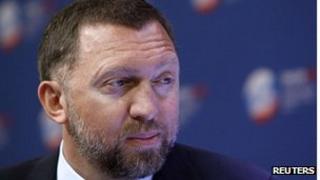 A High Court case between the Russian oligarch Oleg Deripaska and a rival billionaire has begun in one of the UK's largest ever commercial disputes.
The dispute is over a $1bn (£650m) stake in Rusal, the world's biggest aluminium producer.
The case was brought against Mr Deripaska by Michael Cherney, who alleges they were business partners, something Mr Deripaska denies.
Mr Cherney claims Mr Deripaska owes him a 13.2% stake in Rusal.
The stake is worth more than $1bn.
In written opening statements for Mr Cherney, Mr Deripaska is accused of "telling lies on a grand scale" and of "re-writing history".
Neither Mr Deripaska nor Mr Cherney were present in court on Monday.
'Business acumen'
Mr Deripaska became well-known in this country after he entertained both Lord Mandelson and the now-Chancellor George Osborne on his yacht in 2008.
Mr Cherney and Mr Deripaska met in the 1990s when Mr Cherney says he spotted Mr Deripaska's business acumen and entrusted him with certain business interests.
Mr Cherney says they signed a document in 2001 in London and made a verbal agreement over ownership of the Rusal stake.
"In order to avoid these [2001] obligations, Mr Deripaska has constructed... a bogus defence," Mr Cherney's legal team said in written opening statements.
"That house of cards will, it is submitted, collapse at trial."
Mr Deripaska acknowledges he paid $250m to Mr Cherney but says it was to settle another business matter.
He will seek to prove he was a victim of a protection racket, known in Russia as a "krysha".
The case is expected to take months to hear, calling some 70 witnesses. After this week's opening statements, it will resume in September with Uzbek-born Mr Cherney giving evidence from his home in Israel via video link.
It is the latest in a string of court action taken by Russian billionaires in London, actions that have included the exiled Russian oligarch Boris Berezovsky and the Chelsea football club owner Roman Abramovich.