Japan approves merger of Tokyo and Osaka exchanges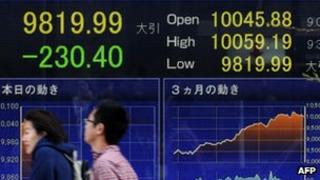 Japan's competition watchdog has approved the planned merger of the Tokyo Stock Exchange and Osaka Securities Exchange.
Once completed, it will create the world's third-largest and Asia's largest stock exchange.
The move comes as demand for new share sales in Japan has been falling amid an overall slowdown in its economy.
Meanwhile, other regional bourses, especially in China and Hong Kong, have seen a growth in new listings.
The Japan Fair Trade Commission said in its ruling that "given the remedies proposed by the parties concerned, competition in any particular field of trade might not be substantially restrained".
The two exchanges are scheduled to merge on 1 January next year.
Fading charm
Japan's growth has been slowing in recent years and it lost its position as the world's second largest economy to China last year.
The slowdown in its economy has also resulted in a decline in the number of companies looking to list on stock exchanges in Japan.
According to data compiled by Ernst & Young, only 22 companies carried out an initial public offering (IPO) of their shares in Japan, down from 198 firms in 2006.
The amount of money raised also fell to $15bn (£9.6bn) in 2010 from $19bn in 2006.
On the other hand, stock exchanges in Hong Kong and China have seen a surge in IPOs.
Bourses in the two countries saw as total of 440 companies carry out share sales in 2010, up from 123 in 2006.
These firms raised a combined $130bn in new capital through the share sales, compared with $54bn in 2006.