Barclays - a day of unanswered questions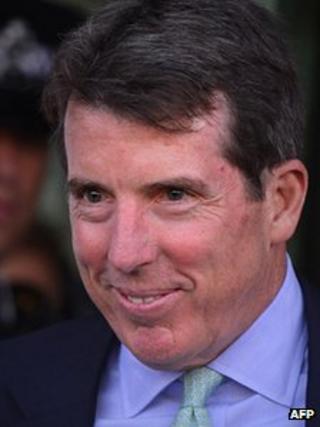 To understand where the critical issues lie in the Barclays/Libor scandal you have to think of a four-layer communication chain - from Whitehall, through the Bank of England, to Barclays management, down to traders.
This is what we know:
1) People in Whitehall - "senior figures" - phone Paul Tucker at the Bank of England complaining that Barclays Libor submissions look too high.
2) Tucker phones Bob Diamond in New York. No confirmation that a recording exists but a note does in which Diamond says:
"Mr Tucker stated the levels of calls he was receiving from Whitehall were senior and that while he was certain we did not receive advice, that it did not always need to be the case that we appeared as high as we have recently."
3) The content of that conversation is passed to Jerry del Missier. He concludes that an instruction had been made by the Bank of England not to keep Libor so high: ie to manipulate the rate. He passes down an instruction to that effect to the submitters (responsible for Barclays contribution to the rate).
4) The submitters vigorously resist. One in New York says:
"Following on from my conversation with you I will reluctantly, gradually and artificially get my Libors in line with the rest of the contributors as requested. I disagree with this approach as you are well aware. I will be contributing rates which are nowhere near the clearing rates for unsecured cash and therefore will not be posting honest prices."
5) The submitter raises this with the compliance office and is told by compliance to stick to the rules. Compliance say they will raise it with senior management but they never do so.
These questions remain:
On the Whitehall issue (the first layer of the chain) Bob Diamond clarified today that "Whitehall figures" included ministers and that he feared Barclays would be nationalised.
We know Labour ministers wanted to get Libor down - that they presented it as an achievement that it had happened after the event. But there is no evidence of any knowledge or intent by ministers to manipulate Libor: Balls, Vadera, Darling and Myners have all denied it. Gordon Brown has not, at time of writing, made any public statement.
At the Bank of England level, we need to know what Tucker actually said. It is hard to believe that the Bank of England has no note of this.
A whistleblower at the Financial Services Authority (FSA) has already told the committee he believes the FSA has e-mail evidence of exchanges between the Barclays and the Bank of England about the Libor rate.
At the very least we need Tucker's written account of his own side of that conversation. So far he has volunteered no account and has been screened behind the Bank of England's press operation, which says they can't comment on anything not in the FSA judgment.
At the level of Barclays' senior management we need to know - and this is the critical question: why did Jerry del Missier form the opinion that Tucker had ordered the rigging of Libor?
If that were me, and I was ordered to breach my professional and industry rules, I would be checking the exact meaning with the boss I have just spoken to. We need to know what Del Missier actually did.
Diamond says he did not understand the bank had been so ordered, but somehow, del Missier, who was not in the conversation, did. How did this happen?
This is crucial because if Bob Diamond's recollection is wrong, and del Missier and those below him were following an overt or implied order from the management, then Diamond himself is in trouble.
His current rationale for resigning is simply that he wishes to avoid Barclays reputational damage: he has not admitted culpability - only responsibility.
If these were looters, or armed robbers, the police would simply put them all in separate rooms and quiz them until they found evidence of who actually committed the offence.
In Britain, Tucker is allowed to avoid public questioning, ditto del Missier, and the trader in New York who complained about what he was being asked to do cannot be named.
And Diamond is quizzed by a committee of MPs who cannot seem to ask the question direct; and under the circumstances when they do, Diamond is not forced to answer.
We actually do have a financial police force: not just the Serious Fraud Office (SFO) but the FSA acting in its capacity as regulator. The stunning thing is that the FSA cannot seem to answer any of the questions. Its own report doesn't get to the bottom of where the instructions came from:
"Senior management's concerns in turn resulted in instructions being given by less senior managers at Barclays to reduce Libor submissions in order to avoid negative media comment. The origin of these instructions is unclear."
Why? Why is it unclear? Why too was the FSA's original account so sketchy compared to what we know today?
There is evidence here of a long-term, industry wide manipulation of the Libor rate. We know the BBA, Bank of England and FSA were aware of allegations of manipulation before 2008.
It was all over the financial press, so ministers must have been aware too. Diamond did not, as some expected, implicate Tucker in an instruction to fiddle Libor, but interpreted the note as a legitimate attempt to question Barclays outlier status.
But another question arises: if Tucker is communicating directly to Diamond about the Libor rate, what is being said by both of them in real time to the FSA?
It is a strange day for Parliament if we come out of it without any clearer answers to the questions above.
We are told Mr Tucker is requesting a hearing at the committee at the earliest opportunity. But there is an opportunity for the entire bunch of them: the FSA boss Adair Turner, Tucker himself, Del Missier etc to come and answer these questions on Newsnight or any other news programme.
The world is watching the British establishment: if a combination of institutional paralysis, party politicking and incompetence leaves these questions unanswered for much longer, confidence will continue to drain away.