Aeon supermarket profits double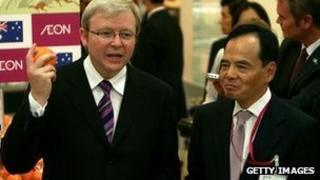 Japan's biggest supermarket operator, Aeon, says net profit more than doubled to 13.1bn yen ($164m; £104m) in the three months to the end of May.
Profits were boosted from the 5.8bn yen reported a year ago by sales of its own-brand Topvalu food and clothing.
The group said it was on target for another year of record profits in 2012.
Last month, Aeon struck a deal with the world's third-biggest retailer, Tesco, to buy 117 stores in the greater Tokyo area.
Aeon also confirmed plans to sell shares in its property portfolio on the Tokyo Stock Exchange next year.
The money raised from the sale will be used to fund plans to open branches in approximately 2,500 new locations outside Japan such as China, Vietnam and Cambodia.