Barclays ex-boss Bob Diamond faces MPs' questioning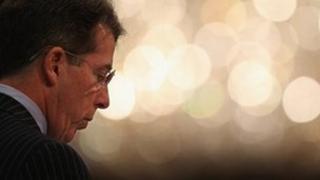 Bob Diamond will be grilled by MPs later, a day after resigning as Barclays chief executive in the wake of the bank interest rate-fixing scandal.
His appearance was arranged before his resignation, and he is likely to be quizzed about who knew what and when.
MPs are also likely to ask about the role of the Bank of England and the previous government in the rate-fixing.
There have been suggestions the BoE's deputy governor and senior Whitehall officials knew rates were manipulated.
Prime Minister David Cameron described Barclay's actions as "appalling" and said it was "outrageous" that homeowners and businesses paid higher interest rates as a result of the bank's rate-rigging.
Labour leader Ed Miliband called for a two-part inquiry led by a judge, looking at both Libor and the wider culture of banking in the City, rather than the parliamentary inquiry proposed by the government. Mr Cameron said a judicial inquiry was not necessary.
In another development, the Bank's deputy governor, Paul Tucker, has asked to give evidence to the Treasury Select Committee in order to give his side of the story.
"Mr Tucker is keen to give evidence to the committee in order to clarify the position with regard to the events involving the Bank of England, including the telephone conversation with Bob Diamond on 29 October 2008," the Bank said in a statement.
'Revenge'
Amid reports that Mr Diamond was pressured to resign, there is speculation that he will use the Treasury Committee hearing to hit back at senior political and City personnel.
Robert Peston, the BBC's business editor, said that Mr Diamond "has an opportunity to take his revenge if he so chooses".
On Tuesday, Barclays released Mr Diamond's note of a conversation in 2008 with Mr Tucker.
Mr Diamond writes that Mr Tucker told him of concerns among "senior figures within Whitehall" about why Barclays was setting its Libor rate - the rate at which banks lend to one another - at the "top end".
He went on: "Mr Tucker stated the levels of calls he was receiving from Whitehall were senior and that, while he was certain that we did not need advice, that it did not always need to be the case that we appeared as high as we have recently."
Subsequently, the Libor borrowing rates submitted by Barclays fell, potentially understating the extent of the bank's borrowing costs.
Wrong impression?
The Libor inter-bank rate plays a key role in global markets, affecting what banks, businesses and individuals pay to borrow money.
Manipulating the rate might have given the impression that Barclays - and other banks also thought to have used the practice - was in a stronger financial position than it was.
Barclays said in Tuesday's statement that Mr Diamond did not view his conversation with Mr Tucker as an instruction to change its rates submission.
However, after the phonecall with Mr Tucker, Mr Diamond relayed the conversation to Jerry del Missier, a senior executive in Barclays investment banking arm BarCap who resigned on Tuesday.
Barclays said: "Jerry del Missier concluded that an instruction had been passed down from the Bank of England not to keep Libors so high and he therefore passed down a direction to that effect to the [traders]."
It is unclear who the "senior Whitehall" figures mentioned by Mr Diamond were.
Documents seen by the BBC on Monday indicate that ministers in the last Labour government held discussions with banks about policies which would allow the Libor rate to fall.
'No recollection'
Crisis jargon buster
Use the dropdown for easy-to-understand explanations of key financial terms:
AAA-rating
The best credit rating that can be given to a borrower's debts, indicating that the risk of borrowing defaulting is minuscule.
Speculation about how much the government of the day knew prompted a statement on Tuesday evening from former Labour minister Baroness Vadera of Holland Park.
She said she "has no recollection of speaking to Paul Tucker or anyone else at the Bank of England about the price setting of Libor".
Lord Myners, the former City minister, told the BBC that he did not put pressure on the Bank of England or on Barclays to lower its Libor rate.
"I did not speak with Paul Tucker or anyone at the Bank [about Libor]," he said.
This manipulation of Libor took place in 2008, around the time Barclays was raising funds privately in the Middle East - rather than taking emergency loans from the government like a number of other major UK banks - following the credit crunch and the onset of the financial crisis.
Barclays is also being investigated for manipulating Libor rates to increase profits as far back as 2005.
The bank is also being investigated in the US, where the Department of Justice is undertaking criminal investigations into other financial institutions and individuals. Banks are also facing a number of class-action lawsuits relating to the manipution of inter-bank lending rates.
Mr Diamond's resignation came less than a week after Barclays was fined £290m for its role in Libor manipulation.
The BBC's Robert Peston has disclosed that Mr Diamond was encouraged to go by Bank of England governor Sir Mervyn King and the head of the FSA Lord Turner.
Tuesday's resignations followed an announcement on Monday that Barclays chairman Marcus Agius would stand down.
However, Mr Agius will now take over the running of the bank until a new chief executive is appointed.