US economic recovery is tepid, says IMF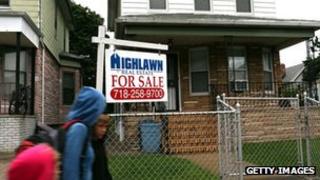 The US recovery "remains tepid", according to the annual report from the International Monetary Fund (IMF).
It has cut its growth forecast for the US economy to 2% this year from an earlier estimate of 2.1%.
The IMF warned of risks from the eurozone debt crisis and uncertainties surrounding domestic policies, with an election in November and the debt ceiling needing to be raised in 2013.
But it said there was also a chance that the economy could recover faster.
The IMF said non-financial firms could invest more than expected and the housing market recovery may accelerate.
Its report said that "house prices have stabilised recently, but remain at depressed levels".
The most recent official figures have shown that the US economy grew at an annualised pace of 1.9% in the first three months of 2012.
Last month, the US Federal Reserve cut its forecast for economic growth in 2012 to 2.4% from 2.9%.
Boosting growth
As well as cutting its growth estimate for this year, the IMF also cut its forecast for 2013 to 2.25% from 2.4%.
It suggested that the federal budget could be cut by less than planned by President Obama in February.
The IMF also said that spending should be made as "growth-friendly" as possible, with investment in infrastructure, training, housing initiatives and an extension of emergency unemployment benefits.
It warned of the dangers of the so-called fiscal cliff, which is the $4tn of tax increases and government spending cuts that are due to automatically happen at the end of the year.
The IMF added that the federal government needed to act quickly to deal with the debt ceiling, which will be hit when it reaches its debt limit of $16.4tn.
The ceiling is expected to be reached some time between the presidential election and the end of the year.
It said that the ceiling should be raised quickly to avoid uncertainty and a loss of confidence.