Brand Borg: Brief encounter revives Bjorn's fortunes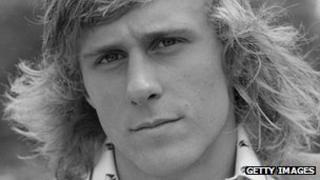 Bjorn Borg was the first tennis player to receive the hysterical teenage adulation usually reserved for a rock star.
When he first played at Wimbledon in 1973, his ice-cold countenance and flowing blond hair created as much attention as the five successive titles he went on to win between 1976 and 1980.
The sight of excited fans brandishing items of underwear at the Swedish heart-throb during his epic battles on Centre Court was enough to have the predominantly middle-class debenture holders spluttering into their Pimm's and choking on their strawberries.
But it proved to be a good boost for tennis.
The media coverage of hysterical teenage girls introduced the game to a new generation of spectators, and inspired a plethora of future champions.
Early retirement
Considered one of the greatest players of all time, Bjorn Borg is credited with developing a style of tennis which is still widely copied - a style which saw him win 11 Grand Slam titles.
He then shocked the tennis world in January 1983, when he announced his retirement at the age of just 26.
Fallow years followed, dominated by failed relationships, failed comebacks and failed businesses.
"It took many years to come to terms with myself and to discover what I really wanted to do," he says.
"I had many choices and tried lots of things, some good, some bad," he muses.
"The most disappointing thing was that people abused me," he laments, "I thought those people were my friends. But they were all out to take advantage of me."
Bouncing back
Borg took a step back to reassess his life and became involved with a different set of people.
He now lives outside Stockholm with his wife Patricia and their son.
And helping him rebuild his life has been the renaissance of his clothing line.
The Bjorn Borg company produces sportswear, bags, fragrances and fashion accessories, although it is best known for its range of designer underwear for men and women.
The company had already started to spread its wings outside the Nordic countries, but since Arthur Engel took control in 2008 it has risen to new heights, with an annual turnover in 2011 of more than 60m euros.
"Brand building takes time," says Mr Engel, who explains how the former champion is a "fantastic figurehead".
"The essence of what we are trying to achieve with the company takes into account the two aspects of Bjorn - the conservative tennis player known as the ice man, and the fun-loving guy with a great sense of humour," he says.
Humour, and a knack for raising eyebrows, has certainly paid off, with advertising campaigns in Sweden which would turn the cheeks of the Wimbledon centre court crowd bright crimson with embarrassment.
The company now has stores across the globe and in September 2012 it is opening a store in Harrods in London - one of the most renowned and prestigious shopping establishments in the world.
Social conscience
But with success comes responsibility.
"We believe a company has to be a good citizen," Mr Engel asserts.
That responsibility extends to using sustainable materials and recycling.
"Cotton is a very popular material for underwear but poses an environmental challenge as a lot of water and chemicals are needed to produce textiles from cotton," Mr Engel explains.
"Our policy is to monitor developments and find alternative materials with less environmental impact," he says.
The company also ensures that people who produce its products do so in a safe environment and with reasonable working conditions.
"The requirements that we place on our manufacturers are spelled out in written guidelines."
The company also runs the Mathare Youth Sports Association in Kenya, which endeavours to empower young people to fulfil their potential and improve their lives and their communities through sport.
People took notice when underwear was waved at him on the centre court at Wimbledon, and three decades later enough people are taking notice of his designer underwear to make it the second-top-selling brand in Sweden.