David Jones offer investigated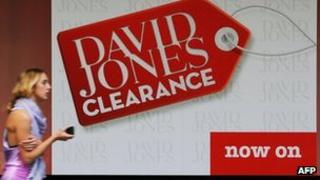 Australian regulators have launched an investigation into the withdrawn offer for the country's second biggest department store chain, David Jones.
The company's shares rose by as much as 19% on Friday after it announced a 1.65bn Australian dollar ($1.69bn; £1.08bn) takeover offer.
The bid came from little-known British group, EB Private Equity (EBPE).
David Jones shares fell 10% on Monday after EBPE withdrew the bid because of "recent publicity around its proposal".
David Jones' original announcement said that it had "received an unsolicited letter from a non-incorporated UK entity, about which no usual public information is available".
It released more details later in the day, but warned that: "No details of EBPE's financial capacity, its management, or any of the terms of the residual equity have been made available."
In a statement on its website , EBPE said it had wanted to have talks with David Jones while it was approaching financial partners, but that "recent unfounded, inaccurate and ill-informed publicity around our proposal has made it difficult for these discussions to take place".
EBPE is not listed at Companies House, by the registrar of privately owned firms based in England and Wales or by the private equity tracking firm Preqin.
The Australian Broadcasting Corporation said that EBPE appeared to be little more than a post office box in Newcastle, although its website said it was based in both the UK and Luxembourg.
The Australian Securities and Investments Commission (ASIC) said in a statement that it was "looking at potential issues regarding disclosure and trading in David Jones stock both by domestic and international parties".
"The whole process was shrouded in controversy. It is only right ASIC look into this," said Chris Weston, a dealer at IG Markets.