UK economy: Companies call for 'bold action', says BCC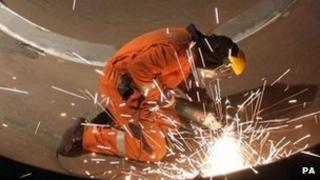 The latest survey from the British Chambers of Commerce (BCC) suggests that while the UK economy remains weak, businesses are growing.
However, the quarterly survey of almost 8,000 small- and medium-sized firms says that the pace of activity is too slow for a sustainable recovery.
Director general John Longworth called for the creation of a national business bank and more infrastructure spending.
Bold action is necessary, he said, adding: "Growth cannot wait."
The survey found a further small rise in exporting activity among both the service sector and manufacturing firms in the three months to the end of June. Domestic activity, however, showed little net overall change.
There was a mixed picture on employment.
Asked whether they had taken on staff in the last few months, the balance of manufacturing firms hiring stayed at the same as the last quarter at 16%, but the balance of service sector firms that had taken on staff rose six points to 10%.
However, while manufacturers expected to take on fewer staff over the next three months, service sector firms expected to hire more employees.
Mr Longworth said: "While domestic growth continues to bump along the bottom, the silver lining is an increase in firms looking for export opportunities, and in many cases, with countries outside Europe."
But he added: "Growth cannot wait. The government must take an imaginative and brave approach to stimulating the economy and helping businesses thrive. Headline-grabbing U-turns on fuel duty are not enough to get the economy back on track.
"The creation of a business bank, for example, would ensure that new and growing companies can access the finance they need to invest in new products and services, export to new markets, and take on more staff."
He said that more public investment in rail, air, maritime, energy and digital networks would attract private finance into much needed projects.