Foreign start-ups discover UK venture capital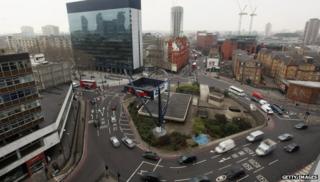 Having a clever idea and turning it into a product is just half the work for a technology start-up. Much trickier - and more time consuming - is getting the funding to make it happen.
That is one reason why there is a Silicon Valley. Venture Capitalists, the joke goes, will fund anything as long as it is within one hour's drive from Sand Hill Road, where many of Silicon Valley's venture capital (VC) firms are clustered.
So much for humour, but anecdotal evidence suggests that for start-ups outside the United States it is indeed much more difficult to find the money to get their venture off the ground.
But if this week's Innovate Israel conference , held in London, is anything to go by, that situation is improving.
Take Israeli start-up Wibbitz. One click - and your paragraph of text is turned into a lively video, as the firm's software collates images and stitches them together on the fly; no editing required.
Just recently, the Tel Aviv-based company managed to secure its first major investment of $2.3m (£1.5m), from a UK branch of a Hong Kong-based venture capital firm Horizons Ventures.
"A few years ago, the only VCs that invested in Israeli companies were local Israeli VCs or a branch of US VCs, based in Israel," says Yotam Cohen, Wibbitz's co-founder, sitting in a crowded room full of Israeli and British entrepreneurs and venture capitalists.
"Now, I do see a trend in Israel that companies are searching for other markets, and the UK is a very interesting one."
Encouraging innovation
Yossi Vardi, an Israeli investor called by many the godfather of Israel's hi-tech industry, says UK investors are realising that Israel is becoming "recognised world over as a hot bed for innovation".
"We now see large UK companies coming to Israel to source technology and to make investments," he says.
But British venture capitalists believe it is more due to a change in the financial and regulatory culture in the UK itself.
"The UK has become a much more attractive place for start-ups in general, whether they're UK start-ups or Israeli start-ups, because the [current] government is taking a much more active approach to encouraging start-ups," says Toby Coppel from a British venture capital firm Virgin Green Fund.
"In the UK, it's cool to be a start-up now - having a corporate job used to be the thing to do, but now everyone's talking about start-ups."
Richard Anton, from Amadeus Capital Partners, agrees.
"The UK government is clearly trying to establish the country as a technological hub and that means partnering with the best in the world - and in places like the US and Israel the provision of technology is enormous".
A lot has been made of Tech City, also known as "Silicon Roundabout" in London's East End. In November 2010 the UK government said it wanted to turn the area into a world-leading technology hub.
Currently more than 1,000 start-ups crowd the place and big tech firms have been attracted too.
In March, Google opened a Google Campus there, a building full of desk space and ready-made infrastructure for young tech companies - Google mentoring included.
Towards the UK
"The UK is definitely more present on the start-up map now, the entire innovation eco system is picking up here, including VCs," says Ido Yablohka from Israel's Clarity Ray, a firm that works with website owners to generate alternative, "unobtrusive and user-friendly" ads to users who have blocked regular advertising pop-ups.
"For Israeli entrepreneurs specifically, I think London is extremely well-based in terms of the European market, because of the financial conditions, the language and the location.
"The European market is something that would be silly to ignore, it's very significant - and the UK government is providing strong support [for London to become the main tech hub in Europe]."
TVTak is an Israeli start-up that came straight to the UK to find a partner - without looking elsewhere.
The company promises to make your television interactive - through smartphone apps that allow viewers to interact with programmes or commercials they are watching on the big screen.
Point the camera of your mobile device at the TV screen, the app "recognises" the content and directs you to the right webpage.
"In the UK, we did a campaign with Walkers, where people would point at a TV commercial and get an exclusive clue about the flavour of the potato chips shown on the screen," says TVTak's chief executive David Amselem.
Viewers were then taken to a Facebook sweepstakes page, where whey could guess the flavour and win a prize.
Local start-ups
The hi-tech community around "Silicon Roundabout" may be booming and foreign entrepreneurs may be flocking to the UK in search of investors and partnerships, but many British start-ups still find it hard to secure the right kind of funding.
They have to look elsewhere, either going the traditional route, to Silicon Valley, or as far away as Chile. A government programme there, called Start-Up Chile, offers aspiring entrepreneurs from around the world funding for six months to kick-start their project.
Ian Ozsvald from Brighton, co-founder of an artificial intelligence firm Strongsteam, says he tried for months to get funding in the UK, but failed.
Together with his fiancée Emily Toop, who heads her own start-up Tiny Ears, a firm specialising in speech recognition for children, he got the crucial first investment from the Chilean government.
"I'm getting married in a year's time, so I will be going back to the UK, but if the funding situation there doesn't change, I will have to look for money in other places," he says.
But for Israeli entrepreneurs, at least those that came to Innovate Israel this week, the UK seems to be becoming one of the main destinations to come get money - and get noticed.