News Corp confirms plan to split the media giant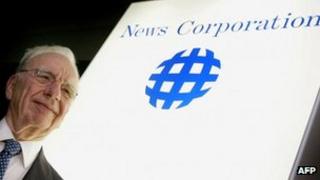 Rupert Murdoch's News Corporation has announced plans to split the $60bn media giant into two companies.
The move should ringfence News Corp's profitable film and media business from its UK newspaper business, which is embroiled in a phone-hacking scandal.
News Corp's Fox networks in the US and its stake in UK satellite broadcaster BSkyB would form a film and media unit.
Book publisher HarperCollins would join newspaper titles such as the Sun. Mr Murdoch will be chairman of both firms.
News Corp chairman and chief executive Rupert Murdoch said he was "100% committed to the future of both the publishing and media and entertainment businesses.
"I would serve as chairman of both companies," he said.
But Mr Murdoch would not be chief executive of the new publishing arm.
This follows pressure from shareholders and UK politicians following an inquiry into practices at the News of the World newspaper by Lord Leveson.
Shares in News Corp were down 1.1% in Thursday trading.
Entertainment v publishing
The new publishing unit would include the UK newspaper titles the Sun and the Times as well as the Wall Street Journal and New York Post in the US and the Australian.
Business information specialist Dow Jones Newswires and the group's fledgling digital education titles would also be included.
However, the publishing unit's $8.8bn revenues will be dwarfed by those of the group's entertainment arm.
Currently, the film and television businesses include the film studio 20th Century Fox, Fox satellite and cable television stations, as well as its stake in BSkyB in the UK and Star in Asia.
Together these generated $23.5bn in revenues in the year to June 2011.
Shareholder value
Mr Murdoch said the split would "unlock even greater long-term shareholder value".
He added that there was still "much work to be done".
Under, the plan, News Corp investors would receive one share in each of the new entities in exchange for each old News Corp share.
The plan is still be subject to shareholder approval. However, Mr Murdoch's family trust holds just under 40% of News Corp shares and is expected to have little difficulty winning support from the additional 10% of shareholders necessary to push through the split.
The company will have to overcome a number of regulatory hurdles, including a formal filing with the US Securities and Exchange Commission.