Private jet sector rejects image of opulence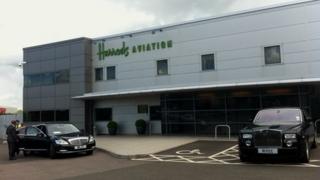 Discretely tucked away next to the cargo terminal at Luton airport, there is a gateway to a very different world.
Everything at Harrods Aviation's terminal screams luxury, from the upmarket cars parked outside the front, to the sleek private jets on the runway behind the building.
Even the company logo, which is shared with the Knightsbridge department store, is exclusive.
The executive lounge - complete with comfortable sofas and a choice of refreshments and glossy magazines - fits the popular belief that private aviation is a privilege enjoyed by celebrities and diplomats, politicians and company bosses.
But the impression is wrong, according to Steve Varsano, who heads The Jet Business, a private jet and helicopter broker in London.
"People have the wrong idea about business aviation," he says.
"It's a business tool."
'Not about luxury'
Those who visit Mr Varsano's showroom near Hyde Park Corner in London may find that assertion difficult to accept.
Inside, a full-sized Airbus ACJ cabin has been reconstructed to showcase large, soft leather seats and fridges filled with champagne.
But Mr Varsano is adamant.
"It is luxurious," he acknowledges.
"But it's not really about luxury.
"When you spend $20m, or $30, or $50m on a private jet, the cost of the luxury aspect makes up perhaps 1-2% of the total price, so why not make it comfortable?"
Convincing bankers
Aoife O'Sullivan, aircraft finance partner with solicitors Gates and Partners, agrees.
"This whole concept of business aviation being a luxury market - it's not, it's not, it's not," she insists.
"We do three or four deals a month, and all our clients have very specific business reasons."
Convincing bankers - a breed to whom luxury is far from an alien concept - that this is the case can be tricky, however.
Hence it can be difficult for companies to raise finance to buy corporate jets, she observes.
These days, she says, there are mainly cash deals because the banks are "too slow to respond to clients' needs".
'Not that bad'
Lack of access to finance is one of several reasons why "the last two or three years have been pretty tough for the market", according to Eddie Pieniazek, global head of consultancy, Ascend.
"But the market is changing.
"There's plenty of potential for the market going forward. Aircraft are still being delivered, Europe's still busy, and we're expecting to see roughly as many aircraft delivered this year as last year."
Within the business aviation world, a complex picture has emerged, observes Brian Humphries, president and chief executive of the European Business Aviation Association.
The US, which used to account for some 75% of the market, has seen its share fall to about 50%.
This is partly a result of rapid growth in demand for business jets in Asia and Latin America in particular, though also in Europe.
Hence, although there was a sharp contraction in the market between 2007 and 2009, "we're still 20% up on 2004", Mr Humphries points out.
"We've had a huge increase in the European fleet in the last decade," he says, pointing to how there were only about 2,000 turbine powered aircraft in Europe in the 1990s, compared with about 4,000 today.
'Doing very well'
Within the business, some operators of business aircraft are struggling in a market where margins are tight, Mr Humphries acknowledges.
But others are doing fine, he insists.
"There have been tough times, but the top end of the market is still doing very well," he says.
This growth in demand for high-end private jets and helicopters confirms the continuing growth in the spending power of the famous and the powerful.
But it is unlikely to do much for the image of business aviation.
This year's Farnborough airshow will be open for the industry from 9-13 July, then for the general public on 14 and 15 July.