Spain cannot afford high rates for long, Rajoy says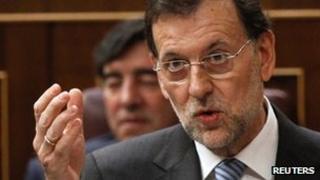 Spanish Prime Minister Mariano Rajoy has said Spain cannot afford to finance itself for long at current rates.
Spanish 10-year government bonds have been trading at yields above 6.8%, coming close to the 7% considered unaffordable.
Mr Rajoy was speaking ahead of this week's European Union (EU) summit.
"The most urgent subject is the subject of financing," he said. Spain has asked for funding for its banks, but the country has not been bailed out.
Eurozone countries have agreed to lend up to 100bn euros ($125bn; £80bn) to support Spain's banks.
The yield on government bonds trading on the markets is taken as an indication of the interest rates that governments would have to pay to borrow money.
Shrinking economy
Mr Rajoy told the Spanish parliament: "There are institutions and also financial entities that cannot access the markets.
"It is happening in Spain, it is happening in Italy and it is happening in other countries," he said.
Separately, there was bad news from the Bank of Spain, which said that the country's recession had probably deepened in the second quarter of the year.
The country's economy contracted by 0.3% in the last three months of 2011 and another 0.3% in the first three months of 2012.
The Bank of Spain said its latest data suggested further contraction in the second quarter "at a more intense pace".
On Tuesday, EU authorities put forward their vision for the future of monetary union, which they hoped would reassure investors that they could safely lend to eurozone countries, and avoid further bailouts being needed.
The big dispute in the eurozone is whether bonds will ever be issued jointly by all of its members in order to keep borrowing costs down for those currently facing unaffordable debt.
Tuesday's release from the EU said that could be part of its 10-year plan involving closer fiscal union.
But German chancellor Angela Merkel seemed to dismiss that, reportedly saying: "I don't see total debt liability as long as I live", having already said that the idea of eurobonds was "economically wrong and counterproductive".
Crisis jargon buster
Use the dropdown for easy-to-understand explanations of key financial terms:
AAA-rating
The best credit rating that can be given to a borrower's debts, indicating that the risk of borrowing defaulting is minuscule.
Italy held a bond auction on Wednesday, selling 9bn euros of six-month bonds with an interest rate of 2.96%, up from the 2.10% it paid at the last comparable auction at the end of May.
Italian Prime Minister Mario Monti and French President Francois Hollande would like eurozone bailout funds to buy government bonds at cheaper rates to help lower the cost of borrowing for indebted eurozone governments such as Spain and Italy on the commercial markets.
In Rome on Tuesday, Mr Monti warned that the EU summit, which is scheduled to take place on Thursday and Friday, could go on into late Sunday if he did not get what he wanted.
But, as the BBC's economics editor Stephanie Flanders points out, the two rescue funds, EFSF and the ESM do not have enough funds to be able to make a serious impact on Spanish and Italian borrowing costs.
For this to work, Germany needs to be willing to allow the ESM to obtain a banking licence, so it can borrow much larger amounts from the European Central Bank, something Chancellor Angela Merkel rejected at last year's July summit.
'Negative repercussions'
Meanwhile, Cyprus' Finance Minister Vassos Shiarly said that the size of bailout it will get from its eurozone partners had yet to be determined.
Cyprus, which made a formal request for the assistance on Wednesday, could need as much as 10bn euros, according to press speculation.
Mr Shiarly said: "Neither ourselves or the people we are talking to have raised the question of the amount."
He added: "There will be some negative repercussions on our economy, but it's not something that we cannot overcome.
"The support that we will receive from the European mechanism will help us to not only deal with the banking problem, but it will also help us bolster the Cypriot economy and especially in generating growth."