China proposes $10bn loan for Latin America countries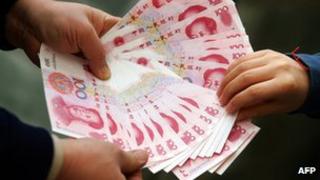 China has offered to set up a $10bn (£6.4bn) credit line for Latin American countries to support infrastructure projects in the region.
The proposal was made by China's Premier Wen Jiabao as he wrapped up his visit to the region.
He also proposed a free trade pact between China and South American trade bloc Mercosur, which includes Brazil, Argentina, Uruguay and Paraguay.
China has been keen to increase its trade with the region's economies.
"The Chinese government... will continue to offer economic assistance to countries in the region that are interested," Premier Wen was quoted as saying by the Reuters news agency.
Win-win?
Many of the Latin American countries are still at a development stage and are building new infrastructure in a bid to boost growth in their economies.
Meanwhile, China, which has the world's largest foreign exchange reserves, has been looking to for new areas invest some of its cash.
At the same time, China's infrastructure development companies have been keen to tap into new markets to expand their business.
Analysts said that the offer of a credit line by China, may turn out to be a win-win situation for both sides.
They explained that Latin American nations could benefit from Beijing's expertise, while Chinese firms may play a big role in developments of these projects.
"China has the manpower and the technical skills required to undertake massive infrastructure projects and also the deep pockets to fund them," Charles Chaw of China Knowledge Consulting told the BBC.
"They have proven their ability with success in their own country."
Increased trade
Latin American countries are also rich in natural resources and China is one of the biggest consumers in the world of those resources.
Beijing imports various commodities, including iron ore, copper and corn from these countries.
Meanwhile, China, which is known for the manufacture of low-cost goods, has been looking to increase its exports to the region as it faces slowing demand from key markets such as the US and Europe.
Premier Wen said that China was keen to double its trade with the region to $400bn over the next five years.
However, he said that for that to happen, both sides will have to work towards easing trade barriers.
"We have to combat trade protectionism, broaden the mutual openness of our markets, optimize the trade structure and diversify cooperation in terms of customs and quality control," Premier Wen said.
Currency swaps
Along with increased trade, Premier Wen also pushed for currency swap agreements with the region's economies.
The agreements allow respective central banks to swap currencies and can be used by firms to settle trade in local currencies rather than in US dollars.
Beijing has been using these pacts as part of its push for a more global role for its currency, the yuan.
Last week, it announced a swap agreement with Brazil worth $30bn and Premier Wen said that Beijing was keen to making similar deals with other economies in the region.
"China is also considering the possibility of negotiating and signing agreements for local currency swap agreements... and increasing the reciprocal creation of bank branches," he said.
China has also signed similar agreements with other trading partners such as Japan, Australia and Hong Kong.