Gina Rinehart threatens to sell Fairfax stake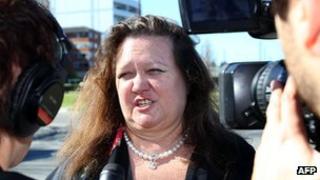 Gina Rinehart has threatened to sell her stake in Fairfax Media if she is not offered seats on the firm's board "without unsuitable conditions".
The mining magnate recently increased her stake to 18.67% in Fairfax and has reportedly asked for three board seats and more editorial control.
However, there are concerns that such a move may hurt Farifax's independence.
Ms Rinehart, who is Australia's richest woman, is opposed to the government's mining and carbon tax plans.
"Unless director positions are offered without unsuitable condition, Mrs Rinehart is unable to assist Fairfax at this time," her firm Hancock Prospecting Pty Ltd (HPPL) said in a statement.
"HPPL may hence sell its interest, and may consider repurchasing at some other time."
Crisis of confidence?
Fairfax is one Australia's biggest media companies and two of its papers, The Age and The Sydney Morning Herald, are key players in the country's newspaper market.
According to a report carried by The Age last week, Ms Rinehart has sought to have a say in the appointment of editors of the firm's newspapers.
That had led to concerns that she may interfere in the company's editorial decisions.
Australia's Communications Minister, Stephen Conroy, warned that such a move may lead to "crisis of confidence among the readership".
He said that if readers lost faith in the papers' editorial independence, they may stop reading them, and that would hurt their circulation and eventually the firm's profits and share price.
Meanwhile, Treasurer Wayne Swan had said: "I think that has very big implications for our democracy, I think we should all be very concerned at this turn of events."
Fairfax restructuring
Fairfax has seen its fortunes dwindle in recent times. Its share price has plummeted more than 85% in the past five years amid rising online competition.
As a result, the company announced a major overhaul of its operations last week, including a plan to cut 1,900 jobs over three years.
It added that two printing facilities in Sydney and Melbourne would also be closed by 2014 as part of the cost-cutting measures.
It has also said that it would change the format of The Age and the The Sydney Morning Herald to "compact" from their current broadsheet form and introduce pay walls on their websites.
The moves are expected to save Fairfax A$235m ($237m, £151m) annually by mid-2015.
On Monday, the editors-in-chief of the two papers announced they were leaving.
Rupert Murdoch's Australian media arm, News Ltd, announced a restructuring plan, including job cuts, last week.
Mining to media?
Ms Rinehart's threat to walk away from Fairfax comes just as she has bought more shares in Ten Network, one of Australia's five main free-to-air television stations.
According to a statement from the Australian Securities Exchange, the mining magnate purchased a further 39 million shares for some A$20m after the Ten Network issued new shares to its investors in June.
Ms Rinehart now owns 143.7 million shares in the firm, which amounts to a 10.6% stake.
Other well-known media moguls Lachlan Murdoch and James Packer have also upped their shares in Ten.
Mr Murdoch spent A$35.7 million on 256.9 million new shares, while Mr Packer, who owns about 9% of Ten, also took up his full entitlement of new shares.
The purchase of new shares does not increase these investors' stake in the television station.