NatWest computer failure: Your rights Q&A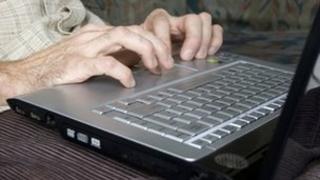 A major computer failure has caused disruption for RBS, NatWest and Ulster Bank customers for days.
Some businesses have been unable to pay clients. Shoppers have been short of cash and even left stranded at the checkout. Home movers have suffered extra stress, worried that delayed transactions might put back the handover of keys.
But the RBS Group - which includes the three banks - has sought to reassure customers, repeating that no customers will be left permanently out of pocket.
What is the problem?
The bank says there was a failure in the computer system that carries out the overnight transfer of money between accounts.
So, even though payments had been made - such as a business paying wages to staff - this did not show up on their account balances. In turn this meant many customers could not make payments themselves, such as paying rent to their landlord.
The failure effectively caused a traffic jam in the system. It created a huge backlog in updating account balances, which the bank has been trying to clear for some days.
Customers of other banks have also been affected because some payments from RBS, NatWest and Ulster Bank customers have not come through.
That must add up to lots of frustrated customers?
Yes, it does, but exactly how many is unclear.
The RBS group has 17.5 million customers. The longer the problems persist, the more of them will be affected.
Ulster Bank's 1.9 million customers could face longer delays, as there have been some setbacks in dealing with its backlog.
Exactly who is to blame for their woes is a little blurred, as so much of the operational responsibility for IT is outsourced. But ultimately, it is the bank that has the responsibility to look after its customers.
So what can they do?
Those customers in the most acute difficulties can go to their branch for emergency cash.
These customers should go into their local branch. Some 1,200 main city and town branches have announced extended opening hours from 08:00BST to 18:00BST until Friday.
Alternatively, they can call the bank on 0161 931 9959, on 08457 77 77 66, or on 0800 656 9639. Overseas customers should call +44 (0) 8705 888 444. Extra call centre staff have been brought in.
Text and email balance alerts have been suspended while the backlog is being overcome.
Current account customers who have an RBS, NatWest or Mint credit card can also withdraw up to an additional £100 over their limit on their card. Any charges for doing so will be automatically waived or refunded
Cash withdrawals on these cards will also see cash advance fees and one month's worth of interest on the transaction waived or refunded.
All mortgage completion payments have now been processed, the bank says.
What about less urgent cases?
Many people may have incurred costs such as overdraft charges, penalties for missing loan or credit card repayments, even extra charges from tradesmen expecting to be paid on time.
RBS has said that nobody will be left permanently out of pocket as a result of the computer failure. Overdraft fees on current accounts will be reversed automatically.
Managers in local branches will look at each case to see if customers should be reimbursed for other charges, so it is important that customers make notes and keep all their paperwork.
But reimbursement for unexpected charges is exactly what the bank is required to do.
The Financial Ombudsman Service , which oversees disputes between financial institutions and customers, works on the principle that customers who are not at fault should be returned to the position they would have been in had the failure never occurred.
It said that banks tended to be very efficient in doing so after computer glitches, but rarely has there been a a failure quite as spectacular as this.
The Financial Services Authority , which regulates the industry, will also be keeping an eye on whether customers are being properly refunded.
What about goodwill payments?
Well, that is a different matter, and one which has yet to be addressed.
Will the bank decide to compensate customers for the inconvenience all this has caused? It is not legally required to do so, but that might not satisfy those who have been affected.
Putting customers back into the position they should have been in is already set to cost a lot of money. The bank would face an extra hefty bill if it decided to make goodwill payments too.
What can non-RBS customers who are affected do?
As mentioned earlier, some customers of other banks have been affected because payments they were expecting had not come through.
Those affected should initially go to their own bank, which should then take up the case on their behalf with the RBS Group. Customers should keep a note of this contact.
Board members of the Payments Council , which includes representatives from the major banks and building societies, held a conference call on Monday morning.
They agreed a united approach to assisting those non-RBS customers who were affected.
What about customers' credit score?
Missed payments on loans and credit cards that show up on people's records can be particularly troublesome if, for example, these people apply for a mortgage.
RBS has also promised to work directly with credit agencies to ensure nobody has their credit score affected, if, for instance, the bank failed to make a credit card payment on time.
Credit reference agency Experian says people should keep an eye on their credit reports .