Cyprus's credit rating cut to junk status by Fitch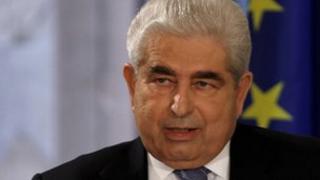 Cyprus's credit rating has been cut to junk status by Fitch, reflecting fears the country could require a eurozone bailout to shore up its banks.
Cyprus, whose banks are heavily exposed to Greece, will need 4bn euros (£3.2bn) to support its banks, said Fitch.
This is on top of 1.8bn euros Cyprus said it needs by Friday to recapitalise its lender Cyprus Popular Bank.
Cyprus' president said he would meet other political leaders on Tuesday afternoon to discuss the options.
Cyprus' junk credit rating means it is almost impossible for it to borrow money from international markets, as it makes it too expensive for it to do so.
Cypriot officials have previously said that they would seek foreign aid from fellow eurozone nations or from Russia, or a combination of the two.
Cyprus is believed to be reluctant to apply to the eurozone bailout fund for the full amount needed to recapitalise its banks because of the strict conditions that may come attached.
Cyprus is keen to protect its low 10% corporate taxation rate which makes it an attractive base for foreign companies.
The scale of the potential bailout required is almost a quarter of Cyprus' total economic output for the year, according to Fitch's estimates.
Fitch said the downgrade was mainly due to the exposure of its three largest banks - Bank of Cyprus, Cyprus Popular Bank and Hellenic Bank - to Greece.
"Even assuming that Greece remains in the eurozone, Cypriot banks will have to bear significant further loan losses as the Greek economy continues to contract over the medium term as well as the deterioration in domestic asset quality," it said.
Fitch also warned that further downgrades were possible if the situation in Greece deteriorated further.
Fitch's move follows that of other major rating agencies Moody's and Standard & Poor's which have already cut Cyprus' credit rating to junk.