Sony and Panasonic announce TV panel tie-up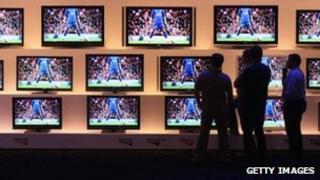 Electronic manufacturing giants Sony and Panasonic have agreed to join forces to manufacture panels for TVs and large-sized displays.
The two firms said they would start mass production of organic light emitting diode (OLED) panels from 2013.
The OLED panels are widely expected to eventually replace liquid-crystal displays (LCD) screens.
Both firms have seen downturn in their TV businesses in recent years, leading to huge losses.
Sony, which launched the world's first OLED TV in 2007, said in statement that the two companies would work towards producing OLED panels at a low cost by "integrating their unique technologies".
'Much less confidence'
The two firms have been going through a tough times due to a variety of reasons.
They have seen increased competition from rivals such as Samsung which has resulted in a decline in their market share.
At the same time, prices for display panels have also fallen, further hurting their profitability.
Last month, Sony reported a record net loss of 456.7bn yen ($5.7bn; £3.5bn) for the financial year to the end of March 2012.
The loss was 75% bigger than the same period a year earlier.
Meanwhile, Panasonic reported a net loss of 772.2bn yen for the year to March and said that its sales had dipped 10% during the period.
To make matters worse, a strong Japanese currency has hurt the competitiveness of the country's electronics makers.
The yen rose almost 11% against the US dollar between April and October last year, rising as high as 75.79 yen against the US dollar.
Even though it has weakened since then, its value still remains at a level considered high by most Japanese manufacturers.
The Japanese currency was trading close to 80.11 yen against the US dollar in Asian trade on Monday.
Analysts said that given all these issues, it was difficult to predict whether the deal between Sony and Panasonic will be successful.
"Building a factory and producing is not the issue. I have confidence they can do that. But that in itself does not make it profitable," Gerhard Fasol, chief executive of Eurotechnology Japan told the BBC.
"I have much less confidence in them creating a profitable business."