German firms more worried about crisis impact, says Ifo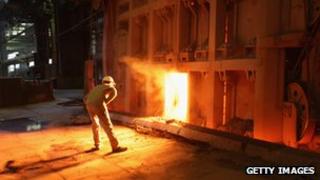 German businesses are increasingly worried about the impact of the eurozone crisis, a survey suggests.
The business climate had worsened in the past month, according to the Ifo index of business sentiment, which fell to its lowest level since March 2010.
The drop in expectations for the six months ahead was particularly marked in the monthly survey of 7,000 businesses.
The data adds to concern that Germany, the eurozone's engine of growth, is feeling the effects of the debt crisis.
This month's Ifo index measure of the business climate was 105.3, down from 106.9 last month, and the lowest reading for more than two years.
The measure of expectations was 97.3, down from 100.8 in May, and back to where it was at the end of last year, during the last period of extreme market volatility.
Manufacturers in particular were far more cautious about the future, especially over future demand for their goods from abroad.
However they, along with retailers, said the current situation had improved in June compared with the previous month, although the reading was still well down on the figures throughout last year.
Looking forward, retailers were no longer as pessimistic about the next six months, and construction firms said the situation had brightened slightly.
This accords more with Germany's central bank, which this month revised up its forecast for the whole of 2012 to growth of 1%.
The German economy grew by 0.5% in the first three months of the year, while the eurozone as a whole contracted by 0.1%.