India cement firms fined $1.1bn for price fixing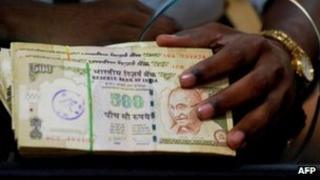 India's competition watchdog has fined 11 cement companies, including ACC and Ambuja Cements, for price fixing.
The Competition Commission of India (CCI) has imposed a collective fine of more than 60bn rupees ($1.1bn; £675m) on the firms.
It has accused them of "limiting" supplies and controlling prices through an "anti-competitive agreement".
However, some of the firms have denied the allegations and said they will challenge the fine.
"We have not indulged in any cartelisation," OP Puranmalka, head of cement at Ultratech, one of the accused firms, said in a statement.
The watchdog has given the companies 90 days to pay the fine.
Demand v supply
India is an emerging economy that has seen robust growth over the past few years.
There has been a push in recent years to improve the country's existing infrastructure in a bid to further boost its economic expansion.
Various projects have also been introduced to build new infrastructure such as airports in smaller cities, and roads connecting rural areas to urban centres.
At the same time, the country's property sector has witnessed a boom, with construction activity picking up pace not only in the bigger cities but also the smaller towns in the country.
All these factors have contributed to a growing demand for cement.
However, the CCI said that the 11 accused firms did not increase their supplies to meet the surge in demand, a move it said resulted in higher cement prices.
"The Commission has found that the cement companies have not utilised the available capacity so as to reduce supplies and raise prices in times of higher demand," the CCI said in statement.